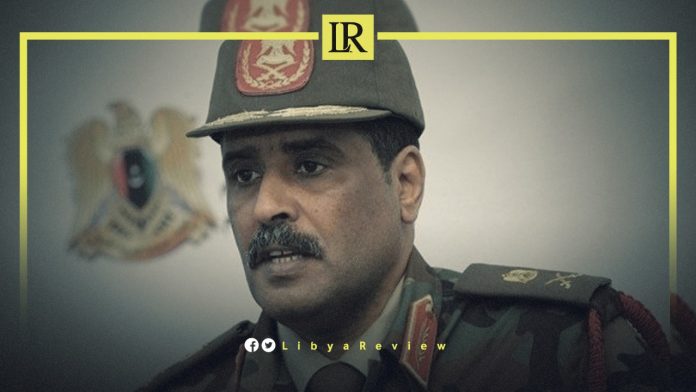 The Official Spokesman for the Libyan National Army (LNA), Major General Ahmed Al-Mismari said that they are developing a comprehensive annual training plan. This will begin with theoretical training, physical preparation, and familiarization with new weapons.
In press statements, Al-Mismari explained that "this plan will last for about 10 months. After which, this long phase of theoretical training and training at the level of small units will culminate in tactical exercises on the ground, to implement the training."
Al-Mismari praised the efforts of members of the armed forces, "which accurately implement the instructions of the LNA Commander-in-Chief, Field Marshal Khalifa Haftar."
He continued: "Today we have reached a tactical exercise at the level of an infantry division. Two brigades, in addition to supporting units, participate with the Air Force, artillery, electronic support units, and air defence units at the mechanized infantry division level."
"Maritime training is very important in this period, given that Libya's shores are open to illegal immigration due to overfishing in Libyan territorial waters," he said.
"This tactical exercise is usually done during this period at the end of the training plan, to see what theoretical training has been accomplished during the year," he added.
Al-Mismari explained that the tactical exercise was carried out by the 106th Brigade, and the Tariq bin Ziyad Brigade. "At the beginning of the exercise, we see a group of reconnaissance forces carrying penetrating the fortifications of terrorist groups, holding hostages. They were freed in this training, which is a special counter-terrorism training."
The LNA Spokesman noted that there is special training for units tasked with "pursuing terrorists, and eliminating pockets of terrorists wherever they are in Libyan territory. These units are separate from the rest of normal combat training or conventional military training. These units have special training and have a plan that pays great attention to detail, to work against terrorist groups that use a variety of tactics, including suicide bombing. These separate units have been training for years. They have great experience in working in the desert and all weather conditions, especially in the southwest region. This is a difficult region, a stony-mountainous desert region, and a difficult area to hide."
He stated that the anti-terror units were able to arrest three Algerian terrorists affiliated with IS three months ago, in complete secrecy. "This is what allowed us to track the major Heads of the terrorist organization in the south. In a lightning operation, LNA units managed to eliminate the terrorist, Mahdi Dango."