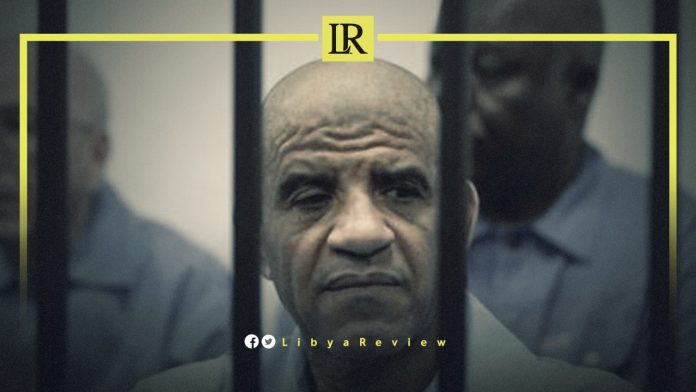 The Magarha tribe and other tribes in southern Libya demanded the Libyan Presidential Council, the Government of National Unity (GNU), and international organizations release former Intelligence Chief, Abdullah Al-Senussi. This is in order for him to receive treatment after the deterioration of his health inside prison.
In a joint statement, the Libyan tribes said that their demand comes in accordance with the Law of Correction and Rehabilitation Institutions, which stipulates the "release of an inmate with a life-threatening illness."
They added that in March, Al-Senussi underwent a heart operation after suffering a stroke. A date was set for another operation a month later, but the specialist doctor did not respond.
The statement also indicated that he has a tumour located in his prostate, and was suffering from liver cancer. Previously, three medical committees affiliated with the Libyan Ministry of Justice decided that his health condition was deteriorating, and his life was at risk, in the absence of the necessary medical care.
The statement noted that "some parties are seeking to prevent Al-Senussi from leaving prison," in addition to "the systematic prevention of healthcare for him. This indicates that they are slowly trying to get rid of him." His lawyer was prevented from visiting him, and very few visits were allowed by his family.
They pointed out that "for several years, his case has been unjustly postponed for unknown reasons to keep him in prison. This is despite the release of many political prisoners and other terrorists who pose a threat to the homeland and the citizen."
The statements explained that "what has been taking place in Libya for years by various parties, including war crimes and crimes against humanity is much more than what Abdullah Al-Senussi is accused of."
The tribes stressed that "if the law is not applied on the ground and to everyone without exclusion, we will have to escalate our position in southern Libya."
At the conclusion of their statement, they called on the UN Security Council, the United Nations, the Head of the Presidential Council, the Head of the GNU, the Ministry of Justice, and the Attorney General to immediately and unconditionally release Al-Senussi. They held them "all responsible for his health condition, that may result in his death."
On 27 May 2021, the Libyan Supreme Court annulled the 2015 death sentence issued against Al-Senussi, by the Tripoli Criminal Court.
It ordered a retrial, alongside that of 37 other officials accused of suppressing the 2011 revolution in Libya.
However, he is still on trial by the International Criminal Court (ICC) for crimes against humanity. He is also a key witness in the illicit campaign financing case of former French President, Nicolas Sarkozy in 2007.