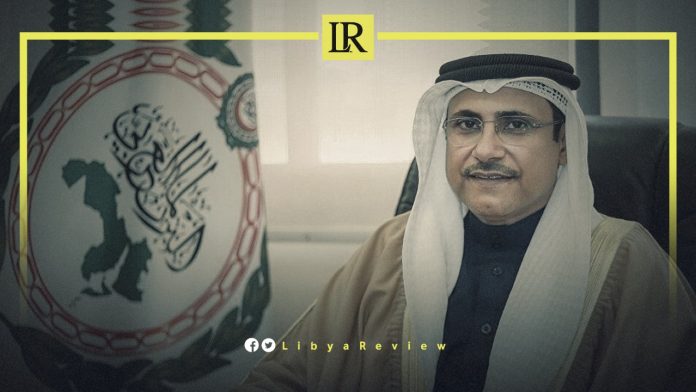 On Saturday, the Speaker of the Arab Parliament, Adel bin Abdul Rahman Al-Assoumi, affirmed the Arab Parliament's full support of maintaining security and stability in Libya.
This came during his meeting with the President of the National Council for Civil Liberties and Human Rights of Libya, Omar Hamad Attiyallah Hijazi, and Member of Parliament (MP), Abu Salah Shalabi.
The meeting discussed the current political developments in the Libyan arena. They also discussed how to enhance cooperation with the Arab Observatory for Human Rights and launch joint cooperation programs in this field.
On his part, Al-Assoumi affirmed their full support for efforts that would contribute to the return of stability to Libya. It called for the return of dialogue between the various parties, leading to parliamentary and presidential elections.
He stressed the need to develop an Arab strategy to address foreign interference that affects the stability of countries in the region.
The Parliament noted that Libya is "going through a crucial stage in its history, which requires everyone to stand united, agree on specific mechanisms, and turn the pages of differences. As well as stop foreign interference, in preparation for Libya's return to its position and its active role at the Arab, regional, and international levels."
Libya is now politically torn between Fathi Bashagha, who was elected by the Libyan Parliament to lead the country in February, and Al-Dbaiba, who refuses to relinquish power.
Tensions have been rising for months in Libya as the two Prime Ministers vie for power. This has led to rising fears of renewed conflict two years after a landmark truce.
Notably, fighting between armed groups took place on the western outskirts of Tripoli late last week. As forces aligned with Al-Dbaiba further consolidated their control over the capital.
The clashes, along with a major pro Al-Dbaiba group taking over a military headquarters in southern Tripoli, come a week after Libya's biggest bout of warfare for two years. As several rival factions battled in and around the capital, killing 32 people.