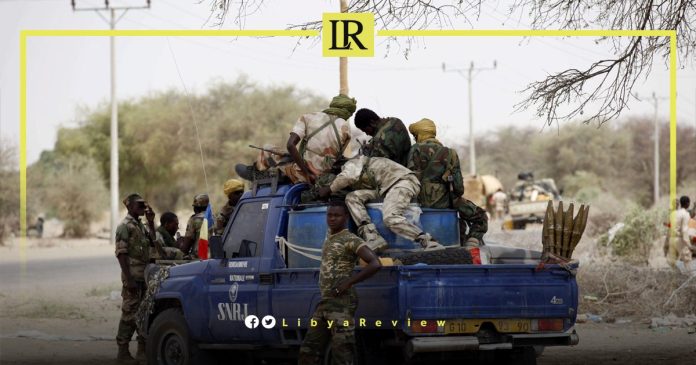 A leader of a Chadian rebel group called for the formation of a reconciliation committee to bring back Chadian fighters from Libya. He described them as an important human resource for the army, according to Chad's newspaper Al-Wahida.
Mahamat Hassani Bulmay, the former Secretary-General of the so-called "Military Command Council for the Salvation of the Republic," warned of the absence of immunisation in Chad against the escalation of rebel fighters, because there are many Chadian youths in Libya.
The Libyan-Chadian border has witnessed great tension since the assassination of President Idriss Déby by rebels stationed near the common border with Libya, a day after he announced his sixth term as President.
The Libyan Foreign Ministry said that it contacted the Chadian Embassy in Tripoli, which confirmed that the four detained Libyans in Chad will be released soon.
The Libyan Foreign Ministry added in a statement that it had formed a crisis cell to communicate with all concerned parties to ensure the release of the four detainees.
The Ministry directed the Libya Embassy in Chad to visit the detained citizens to ensure their safety, and to provide the necessary consular services.
The Chadian Ministry of Foreign Affairs has condemned the "mass and arbitrary" arrests against Chadian citizens in southern Libya. It called on the competent Libyan authorities to "preserve the physical integrity of the detained Chadians, and protect them from any inhuman and degrading treatment."
This came after the Chadian Army arrested four Libyans on charges of illegally entering the country, while they were out on a wild hunting trip near the Chadian-Libyan border. The four Libyans have lost contact with their families at the end of August, and then the Chadian authorities announced that they had been arrested. They were arrested for the possession of hunting weapons and ammunition. They were also accused of poaching, which is prohibited in Chad.
The Chadian statement called for facilitating the work of the Chadian Embassy officials in Libya to reach and contact detained citizens in order to provide them with the necessary assistance and protection. It pointed out that it would use all legal means to release the Chadians soon.
The Chadian Ministry affirmed its readiness to discuss with the relevant Libyan authorities ways resolve this crisis. The statement renewed Chad's commitment to the friendship, cooperation and good neighbourliness with Libya.