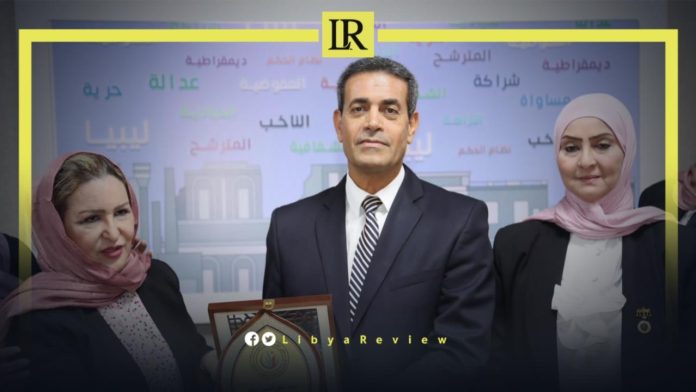 On Tuesday, the Chairman of Libya's High National Elections Commission (HNEC), Emad Al-Sayeh held a meeting with representatives of the Libyan Women Leaders Forum to discuss enhancing the role of women in political life.
The delegation included a number of human rights activists and representatives of pro-women community organizations. This was to discuss "aspects of support that female Libyan leaders can provide to promote women's participation during the upcoming elections."
In a statement, HNEC said that the meeting "reviewed the measures taken by the commission in order to enable Libyan women to exercise their constitutional right to cast their votes."
Al-Sayeh also reiterated that the commission is "technically ready to hold the country's Presidential elections," affirming that it "is the only solution to break the current political impasse."
Members of the delegation expressed their full support for the electoral process. They also stressed their "readiness to fully cooperate with the elections commission in order to consolidate the values of democracy, and a culture of peaceful transfer of power."
During the meeting, they presented the Medal of National Excellence to Al-Sayeh, in "appreciation for HNEC's supportive role of women, in order to enable them to exercise their electoral right, and to eliminate practices that might hinder their participation in political life."
On Saturday, the Union of Civil Society Organizations in Libya announced the establishment of the Supreme National Council for Women.
The union, in cooperation with the Libya Pulse Organisation for Peace and Development, organised the first and founding forum of Libyan women leaders in Tripoli, on Wednesday.
Libyans are waiting for the stalled elections to take place, in the hope that the vote will contribute to ending years of armed conflict that have plagued the oil-rich country.
Presidential elections in Libya were scheduled for 24 December 2021. However, along with the Parliamentary elections, it was postponed indefinitely over technical and legal issues, according to the Commission.
The elections are part of a roadmap adopted by the UN-sponsored Libyan Political Dialogue Forum (LPDF). This aimed at restoring peace to the country after years of political turmoil and violence.
Notably, Libya is politically torn between Fathi Bashagha, who was elected by the Libyan Parliament to lead the country in February, and incumbent Prime Minister Abdel-Hamid Dbaiba, who refuses to relinquish power.
Tensions have been rising for months in Libya as the two Prime Ministers vie for power; rising fears of renewed conflict two years after a landmark truce.