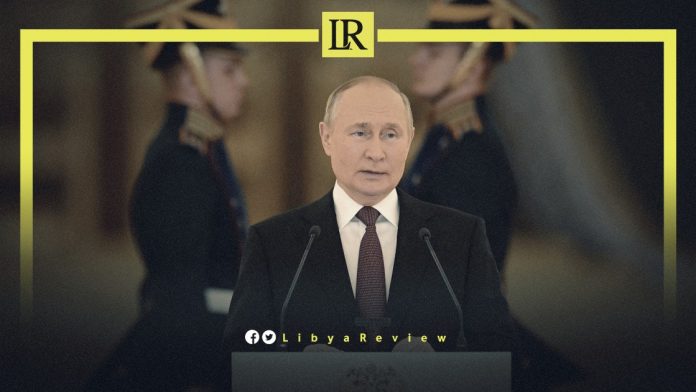 On Tuesday, Russian President, Vladimir Putin expressed his interest in strengthening relations with Libya. He affirmed Russia's keenness to reach a just and sustainable settlement of the long-running internal conflict in the country.
This came during a ceremony to receive the credentials of foreign ambassadors to Russia, including the new Libyan Ambassador, Mohamed Al-Maghrawi.
Putin stressed his support for the "sovereignty and territorial integrity of Libya, and to help the friendly Libyan people defend their right to a dignified life, peace, and security."
Putin indicated Moscow's aspiration to resume bilateral cooperation in various fields.
The Russian President accepted the credentials of 24 foreign ambassadors, including five Arab countries, namely Algeria, Egypt, Libya, Sudan, and Kuwait.
19 ambassadors from other countries also presented their credentials: Uruguay, Mongolia, Portugal, Mali, New Zealand, Armenia, Colombia, Tanzania, Philippines, Moldova, Serbia, Senegal, Cyprus, the Democratic Republic of the Congo, Uganda, Nepal, Belarus, South Korea, and Venezuela.
On Monday, Russian Deputy Foreign Minister, Mikhail Bogdanov said that Moscow will soon reopen its embassy in Libya. Russia relocated its embassy to neighbouring Tunisia in 2014, after the embassy came under attack in October 2013. This forced Moscow to withdraw its diplomatic staff from Libya.
Speaking at a news conference in Moscow, Bogdanov said the appointment of the ambassador will be announced soon.
"Our embassy is reopening in Libya in the near future … You will learn about the appointment of an ambassador. Now we need to solve organizational issues, at the moment there is nowhere to work, temporarily, maybe our colleagues will work in some hotel," Bogdanov said.