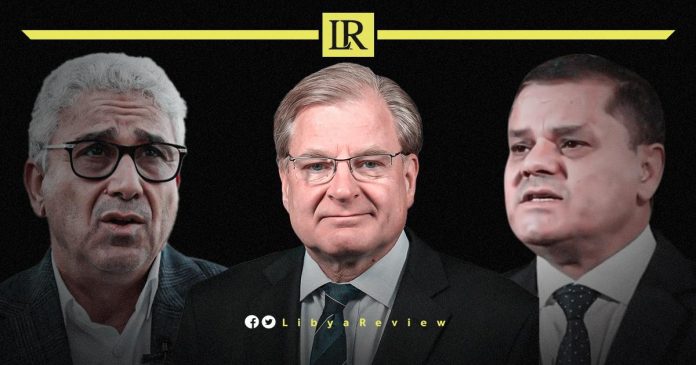 The United States (US) Ambassador to Libya, Richard Norland said that the two rival Prime Ministers "cannot run the country," referring to Abdel-Hamid Dbaiba and Fathi Bashagha.
In an interview with Sky News, Norland explained that resolving the Libyan crisis "requires a general agreement on a fully legitimate government, that has strength and trust to manage the affairs of all Libyans."
The Ambassador stressed the "need to overcome the current state of mistrust in Libya, and move as quickly as possible towards holding elections."
He added that "Libyans alone are the ones who will decide the future of their country, but the lack of trust between parties, and some regional parties was fuelling the conflict."
Norland pointed out that "there are security and economic interests at stake, so solving such deep issues will not be easy."
He emphasised the need to distinguish between militias, as some could be part of a new and unified military, and some represent criminal gangs. As well as pointing to the possibility of imposing sanctions on these militias when necessary.
In a video screened from New York, Norland said that Washington would support the Special Representative of the UN Secretary-General, Abdoulaye Bathily
"I am in New York this week where the US has been working very closely with partners in the diplomatic community, and Libya to try to restore momentum to the electoral process. We have noticed great interest and a lot of new ideas, and we think with the wake of the recent violence in Libya, all actors are aware of the importance of moving as quickly as possible towards the elections. One of the messages we want to convey in new York this week is strong US support for Bathily's efforts to lead the political process, help mediate, and facilitate among the Libyans to try to reach an agreement as soon as possible that will lead to credible elections," he claimed.