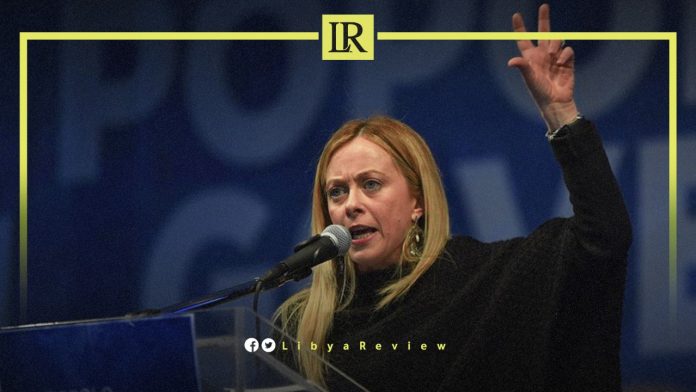 The Italian political analyst, Daniele Ruvinetti expects that Italy's new government will seek to ensure stability in Libya.
In an interview with Libya Review, Ruvinetti added that, "It is entirely predictable (and desirable) that the new government will prioritize in the Mediterranean, an area of national interest for Italy."
He stated that the new Italian government will do so for various reasons, both geopolitical and securitarian. "We are well aware that part of the political priorities of the Italian center-right comes through immigration control, in fact, and it is therefore easy to think that the next government will prioritise the issue."
Ruvinetti explained that this will consequently lead to the initiation of proactive policies, that will also affect Italian relations. "Here, it is logical that the future government will try to get back to the forefront in Libya, a country where migratory complexities unravel."
According to Ruvinetti, "Rome will seek stability in Libya because it is the first element on which to base control of the flows of migrants." Therefore it is expected that the Italian government will "move its political-diplomatic levers to resolve and overcome Libya's political stalemate."
He explained that "it is now clear that the only way to overcome divisions while avoiding the reopening of conflicts-which is far from the Italian interest clearly-is to try to create third-party, super parties and an inclusive government. Such that it can be tasked to develop a climate of dialogue and stabilisation, and then bring Libyan citizens to Presidential and Parliamentary elections."
Notably, Italy turned a page of European history on Sunday by electing a hard-right coalition, led by Giorgia Meloni. Her long record of bashing the EU, international bankers, and migrants has sown concern about the nation's reliability in the Western alliance.
Results released on Monday showed Meloni, the leader of the nationalist Brothers of Italy, a party descended from the remnants of fascism, had led a right-wing coalition to a majority in Parliament, defeating a fractured left, and a resurgent anti-establishment movement.
According to the New York Times, it will still be weeks before the new Italian Parliament is seated, and a new government is formed. This leaves plenty of time for political machinations, and horse trading in a coalition with major differences. Meloni's strong 26% share of the vote, the highest of any single party, makes her the favourite to become the country's first female Prime Minister.
Whilst she is a strong supporter of Ukraine, her coalition partners deeply admire Russia's president, Vladimir Putin, and have criticized sanctions against Russia.
"From the Italians has arrived a clear indication, for the center-right to guide Italy," Meloni said.
After saying she had suffered through a "violent electoral campaign filled with unfair attacks," Meloni spoke about "reciprocal respect and recreating trust in the institutions." She posed, flashing a victory sign. "We are at the starting point," she said, adding, "Italy chose us, and we will never betray it."