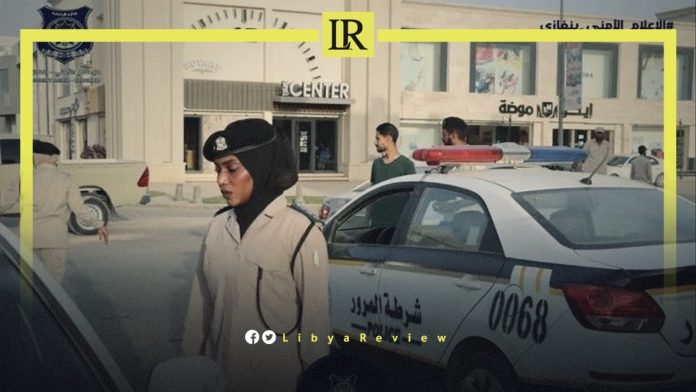 Libyan policewomen have returned to the streets of Benghazi, "to participate in organizing traffic and perform their duties," according to the Benghazi Security Directorate.
It said that "Captain Fawzia Al-Hasnawi led a women's traffic force in the city to ensure the smooth flow of traffic, and to record traffic violations, in cooperation with the Traffic and Licensing Police Department."
Since February 2011, female officers have stopped working in most cities, as a result of the security situation, and the spread of terrorist groups and militias.
The former Military Police Spokesman, Mutassim Al-Hawaz told Sky News Arabia that "policewomen were effective during the era of Muammar Gaddafi." He added that the "presence of policewomen has declined since 2011, because working in this field is a serious threat to their lives."
He stressed that the return of policewomen to service is "clear evidence that security and safety have been established in Benghazi, and the east of the country."
Libyan civil society activist, Sanaa Kachlaf praised the return of female officers to service, and demanded an increase in the representation of Libyan women in society.
"Until this moment, there are abuses that Libyan women are subjected to, and the existing laws need to be amended so that women gain more rights," she said.
"Violence against women is still somewhat high as a result of individual behaviour, but in general, the situation of Libyan women is heading for the better," Kachlaf added.
Last month, the Arab-European Center for Human Rights and Law nominated teacher Asya Al-Shwehdi and lawyer, Intisar Ben Achour to the list of ambassadors for peace and goodwill.
This is in recognition of their great efforts to protect human rights, and their roles as pioneers working for peace. Ben Achour is the first Libyan woman to head a political party, and an advocate of human rights principles and values. In addition to her continuous support for Libyan women.
She was chosen for her cultural, humanitarian, social work, and voluntary efforts. Her participation in many community initiatives has "confirmed the importance of her role in supporting the culture of coexistence and spreading the values of peace inside and outside Libya."