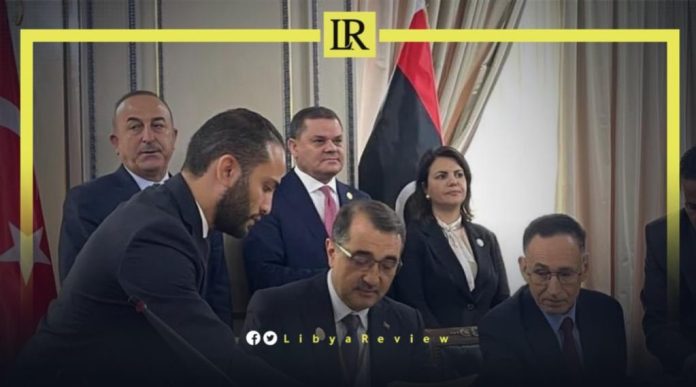 On Monday, Libya's Foreign Minister, Najla Al-Mangoush and her Turkish counterpart, Mevlut Cavusoglu signed a memorandum of understanding on the exploitation of Libyan gas and hydrocarbons.
This came during an official visit by a high-ranking Turkish delegation to Libya. This included Turkish Foreign Minister; Mevlut Cavusoglu, Defense Minister; Hulusi Akar, Energy and Natural Resources Minister; Fatih Donmez, Trade Minister; Mehmet Mus, Communications Director; Fahrettin Altun and Presidential Spokesperson; Ibrahim Kalin.
Earlier, it was leaked that the agreement would refer to the leasing of the Exclusive Economic Zone of Libya to Turkey, for the exploration of oil and natural gas by Turkish companies.
"We discussed the steps towards a political solution and our relations with Prime Minister Abdel-Hamid Dbaiba. We signed a Memoranda of Understanding in the hydrocarbons field," Cavusoglu said.
"The agreement on hydrocarbons that we just signed highlights the cooperation between Turkish companies and Libyan companies, for the exploration and drilling, with a mutual cooperation both on land and at sea," he said.
"Turkey will continue to stand with Libya without any hesitation," he added during a joint news conference with Al-Mangoush.
He claimed that all coastal countries should benefit equally from the Mediterranean.
Last month, Cavusoglu said that Ankara sought to establish relations with all parties in Libya, to ensure security and stability.
He added in press statements that "those who were criticizing Turkey's presence in Libya have today praised the effective role it plays in this country, and started saying that Turkey is a guarantor of security and stability there."
He pointed out that "international relations are constantly changing, and that Turkish foreign policy adapts to changing circumstances in line with its national interests."
Turkey reportedly maintains land, sea, and air bases and thousands of soldiers and "mercenaries" in western Libya. It is also training Libyan forces, according to a military and security cooperation agreement.