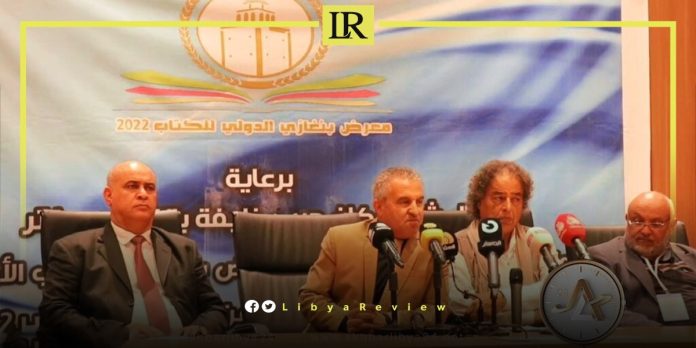 The Benghazi International Book Fair 2022 will kick off on Saturday, 15 October. The first session will take place with the participation of 13 Arab countries, and will continue until 23 October.
244 publishing houses and libraries are participating in the exhibition, which is being held at the Tibesti Hotel in Benghazi. This includes 138 publishing houses with direct wings, and 106 through agencies of other publishing houses.
In a press conference, the Director-General of the exhibition, Ali Bin Jaber said that the selection of the opening day "coincides with the anniversary of the call of the Commander-in-Chief of the Libyan National Army, Field Marshal Khalifa Haftar, to the youth of Benghazi in 2014 to confront the terrorists, and in which the popular confrontations began."
The countries participating in the exhibition are: "Syria, Lebanon, Jordan, Egypt, the UAE, Kuwait, South Sudan, Oman, Tunisia, Algeria, Saudi Arabia, Libya, and Sudan, in addition to an Arab house from Sweden."
Bin Jaber stated that the exhibition will contain approximately 132,000 titles, in various categories. He pointed out that it will "witness the signing of agreements to distribute books between the participating publishing houses."
Last year, the Libyan Minister of State for Displaced Affairs and Human Rights, Ahmed Faraj Mahjoub Abu Khuzam inaugurated the 2021 Book Fair at Sirte University. The Book Fair was organized by the university under the slogan "Sails of Knowledge".
31 publishers, including universities, publishing and printing houses, the Ministry of Culture, and the General Culture Council participated in the exhibition, with more than 10,000 titles available.
The opening ceremony was attended by the President of Sirte University, Dr. Suleiman Al-Shater, Vice-Rector for Scientific Affairs and General Secretary at the university, a number of deans of faculties and faculty members, several Sirte office managers, and representatives of publishing houses and intellectuals.