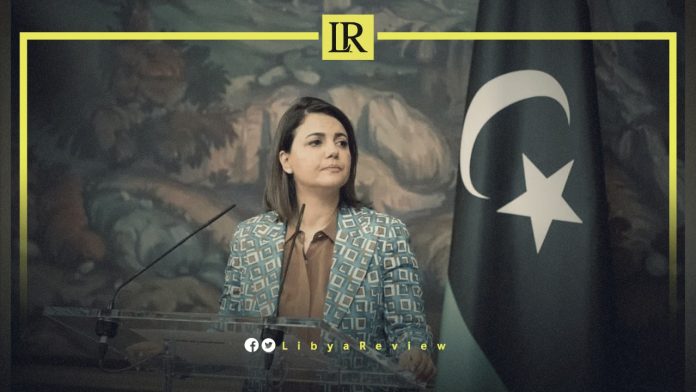 On Thursday, Libya's Minister of Foreign Affairs, Najla Al-Mangoush emphasized that women across the world face multiple challenges when seeking to exercise their social, political, and electoral rights.
This came during an international virtual meeting of female foreign ministers to "reject any kind of violence against women." This came amid the unrest ignited by Mahsa Amini's death last month in Iran.
During the talks, Al-Mangoush stressed the need to "enhance the role of women in political life, especially during crises and conflicts, and to enable their efforts to maintain peace and achieve security and justice in their countries."
The FM indicated that "practising violence against women and girls constitutes a serious violation of human rights, and also prevents them from participating in their societal roles."
The meeting was attended by the Foreign Minister's of Canada, Germany, Lithuania, Albania, Norway, France, Iceland, New Zealand, and Kosovo.
Notably, the National Commission for Human Rights in Libya (NCHRL) said that 50 women were killed in domestic violence incidents in the country since 2020.
Zahia Ali Al-Menfi, the Director of the Women's Office at the NCHRL added that the increase in these crimes was due to perpetrators escaping punishment.
"These crimes have also increased due to the entrenchment of the culture of shame and patriarchal authority, in which society, including members of the police, deals with these issues," she said.
In July, the Libyan Parliament's Committee on Women and Children's Affairs condemned the recent reports of violence against women in Libya.
It referred to the recent rise in murders of women by members of their families and called on all judicial and competent authorities to take the necessary measures to punish the perpetrators.
The Committee confirmed that it is "working on issuing a law criminalizing violence of all kinds and forms, as soon as possible." During the Eid Al-Adha holiday, at least six women were killed in Libya by family members.
The reasons for the killings remain unknown, as investigations remain ongoing. No official security authority has announced further details regarding the incidents.
These show the high rate of societal violence, especially against Libyan women. The Libyan Ministry of State for Women's Affairs has condemned the murders. It called on the competent authorities to "take all necessary legal measures to stop such violent practices, which threaten the security and safety of female citizens, and explicitly violate their basic rights to live in a safe country."