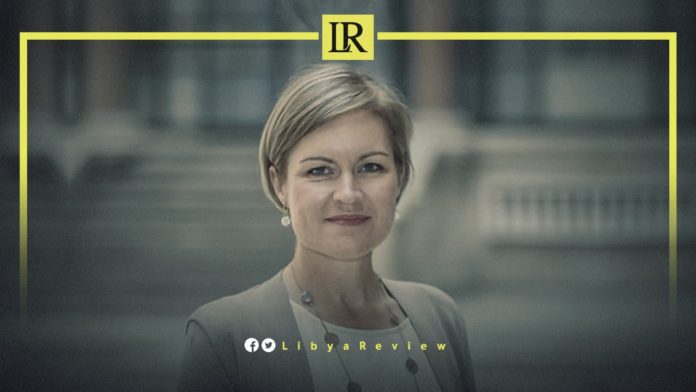 A group of Libyan MP's told the UK's Ambassador to Libya, that they rejected British interference in Libya's internal affairs.
This came during a meeting in Benghazi, with Caroline Hurndall, according to the Libyan Parliament's Spokesman, Abdullah Blaiheg.
The MP's were the Chairman of the Foreign Affairs Committee, Youssef Al-Agouri, the Chairman of the Energy Committee, Issa Al-Araibi, the Chairman of the Defense and National Security Committee, Talal Al-Mihoub, and the Chairman of the Legislative Committee, Ramadan Shambash.
Blaiheg said the meeting, held in Benghazi, dealt with a number of issues, including the role of the United Kingdom in supporting security and stability in Libya. As well as the illegal immigration crisis, and its impact on the security and stability of the UK and EU.
They also stressed the need to hold Presidential and Parliamentary elections simultaneously, the need to remove mercenaries and foreign forces from Libya, and establish a fair, transparent, distribution mechanism for the country's natural resources.
They discussed the unification of the executive authority, and inviting British companies to work in Libya's energy sector.
Notably, the Libyan Parliament said it is ready to support the new UN Envoy, Abdoulaye Bathily to "end the political division and to combat terrorism in the country," according to Fathi Al-Mariami, the Media Adviser to the Parliament Speaker.
During a televised interview with the Al-Ghad channel, Al-Mariami noted that Libya needs the UN Mission (UNSMIL) and the UN Envoy in order to secure a consensus between the conflicting parties. "We need consensus on the constitutional base, and the holding of Parliamentary and Presidential elections," he explained.
On Thursday, Libyan Parliament Speaker, Ageela Saleh and the Head of the High Council of State (HCS), Khaled Al-Mishri will meet to discuss the political blockage in the constitutional track, and negotiate the distribution of sovereign positions.
The HCS First Deputy, Naji Mokhtar told local media that the meeting will be held in Morocco. He added that the consensus between the two chambers "is an important matter to accomplish many urgent matters, including the constitutional base and sovereign positions to move towards elections, unify institutions, and choose who will lead them."