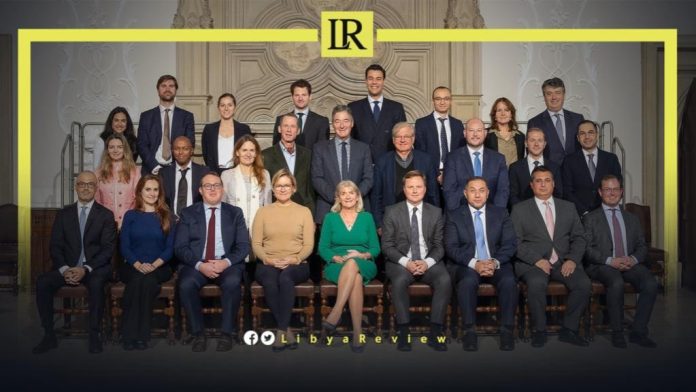 On Friday, Ambassadors and representatives of the US, Germany, Italy, France, Britain, Egypt, and Turkey held a meeting on Libya at the Wilton Park foundation headquarters in London.
The Italian Envoy to Libya, Nicola Orlando revealed in a tweet that the meeting "confirmed their support for the efforts of the new UN Envoy, Abdoulaye Bathily, to reach the Libyan elections."
Orlando explained that the London meeting "ended with encouraging the relevant Libyan institutions to complete the constitutional and legal requirements for elections without delay, and to work together to overcome divisions."
Notably, the European Union confirmed its support for the diversification of Libya's oil-driven economy, and boosting the country's private sector development.
A recent high-level conference in Tunisia brought together policymakers, economic experts, and business leaders from Libya's evolving private sector. The conference marked the launch of a wide consultation process to develop a national economic diversification strategy by mid-2024.
"Increasing the national income and defining a national strategy for economic diversification is among the priorities of the Ministry of Economy and Trade. The diversification strategy is important to develop the service and production sectors, decrease the dependencies on oil, and harness Libya's other potentials," said Minister of Economy and Trade, Mohamed Al-Hwaij.
The European Union is supporting the process of establishing a Libyan national economic diversification strategy through its "E-NABLE" project.
"We are working with Libyan institutions on creating a more business and investment-friendly environment, streamlining and digitalizing administrative procedures such as business registration or the administration of taxes. The EU also directly supports the Libyan private sector, young entrepreneurs and start-ups, to realize their business plans and help them become more competitive on the market" explained Francesca Cuccia, Program Manager for private sector development at the EU Delegation to Libya.
The E-NABLE project brings together Libyan and international experts in economic diversification policies, private sector development, value chains, and business and investment environments, and presents best practices in countries with similar contexts to Libya.
The project will also support the work of a national committee of key Libyan stakeholders, which is expected to develop a national action plan for all involved institutions and sectors.