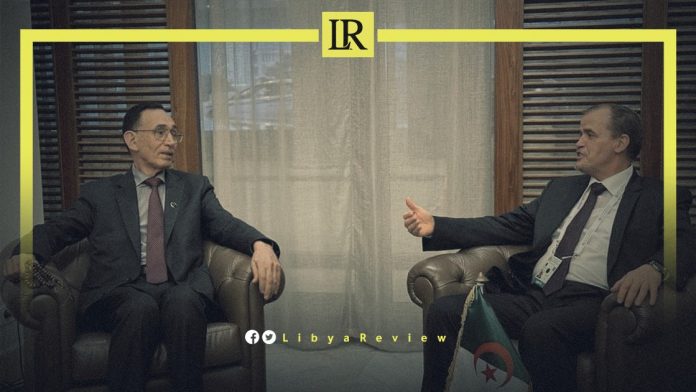 The Libyan Minister of Economy and Trade, Mohamed Al-Hwaij, met with his Algerian counterpart, Kamel Rezig, and discussed business cooperation between the two countries.
Both Ministers agreed to organise a joint meeting of business owners and investors in both countries. This occurred on the sidelines of the meeting of the Arab Ministers of Economy, Trade and Finance in Algeria.
Al-Hwaij and Rezig also agreed to "establish an exhibition on Algerian goods and products in the capital, Tripoli, during the coming period."
According to the Libyan Ministry, the Ministers spoke about the "means of cooperation, raising the level of trade exchange between the two countries and accelerating the opening of the Dabdab border crossing."
Minister Al-Hwaij stressed the importance of activating the role of the private sector, establishing joint projects, and facilitating financial and technical procedures for traders and company owners in Libya and Algeria.
Earlier this month, Al-Hwaij discussed ways to enhance partnership with foreign companies operating in the country.
During a meeting with his advisors, Al-Hwaij reviewed Resolution 207 of 2012 regarding the partnership between the Libyan-state companies and the foreign companies.
The Ministry said in a statement that the meeting discussed ways to encourage the establishment of a partnership with foreign companies, instead of just opening branches for them inside Libya. It added that partnership with foreign companies achieves diversification of the national economy, and contributes to the localisation of projects employing 75% of Libyans as a minimum.
The statement pointed out that these companies will be subject to Libyan law. "This is better than resorting to commercial arbitration and its consequences. Also, the profits of these companies will be spent inside the Libyan state," the statement explained.
Libya is striving for the return of major European investors to the oil-rich country once again. Many investors left Libya after the civil war that toppled the long-time leader Moammar Gaddafi.
More than 90% of Libya's economy depends on oil, so the government wants to diversify sources of income. However, investors are afraid to enter into large-scale contracts with Libya due to the lack of a unified government and the ongoing political turmoil for more than a decade.
Libya has two opposing governments, each of which says it is the only legitimate government in the country, who can make economic agreements.