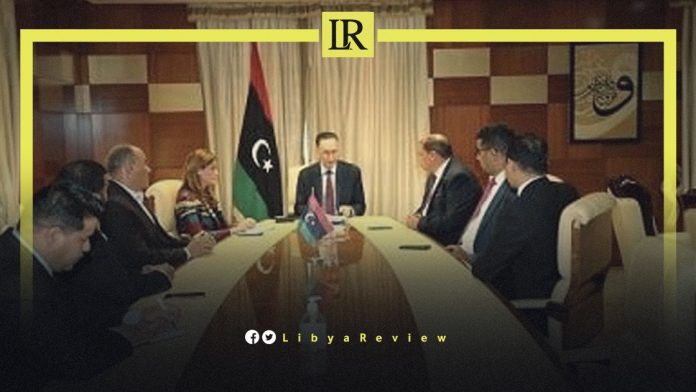 On Tuesday, Libya's Minister of Economy and Trade, Mohamed Al-Hwaij discussed ways to enhance partnerships with foreign companies operating in the country.
During a meeting with his advisors, Al-Hwaij reviewed Resolution 207 of 2012, regarding partnerships between state-owned companies and foreign companies.
The ministry said in a statement that the meeting discussed ways to "encourage establishing partnerships with foreign companies, rather than simply opening branches for them inside Libya." It added that "partnerships with foreign companies will achieve the diversification of the national economy, and contribute to the localization of projects, employing 75% of Libyans as a minimum."
The statement pointed out that these companies will be subject to Libyan law. "This is better than resorting to commercial arbitration, and its consequences. Also, the profits of these companies will be spent inside the Libyan state," the statement explained.
Libya is striving for the return of major European investors to the oil-rich country once again. Many investors left after the civil war that toppled the long-time leader Muammar Gaddafi. More than 90% of the economy depends on oil. Investors are afraid to enter into large contracts, due to the lack of a unified government and the decade-long political turmoil.
Libya has two opposing governments, each of which says it is the only legitimate government in the country, and is authorised to undertake economic agreements.
In August, Libyan Prime Minister-designate Fathi Bashagha claimed that only three or four companies control the Libyan economy. He noted that those companies are owned by family members of the incumbent Prime Minister of the interim Government of National Unity (GNU) Abdel-Hamid Dbaiba.
Bashagha urged for putting the Libyan economy on track, by forming a national committee tasked with preventing the monopoly of Libyan funds at the hands of a small number of businessmen and traders.