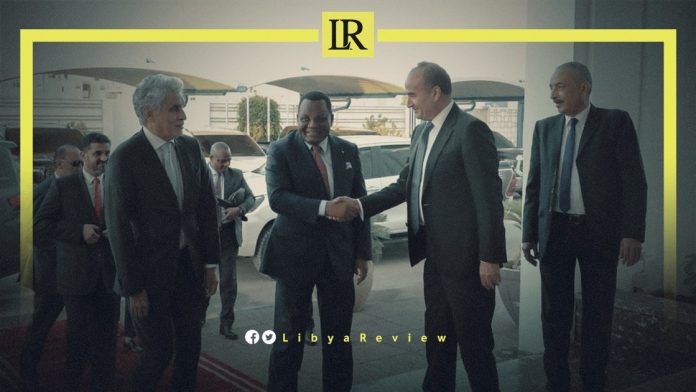 The Libyan Foreign Minister-designate, Hafez Gaddur received his African counterpart from Congo Brazzaville, Jean-Claude Gakosso and his accompanying delegation in Benghazi.
Gakosso is the representative of the Chairman of the High-Level Committee of the African Union. The two top diplomats affirmed the role of the African Union in supporting the stability of Libya, and the establishment of democracy.
Gaddur said in a statement that he affirmed his government's readiness to fully cooperate with the AU to reach a comprehensive national reconciliation, that would lead Libya to stability.
Gakosso also held talks with Libyan Prime Minister-designate, Fathi Bashagha. The two sides discussed efforts to achieve national reconciliation in Libya, and prepare for Presidential and Parliamentary elections.
"We also discussed the efforts of the African Union to reach a comprehensive Libyan solution," Bashagha concluded.
On 10 February 2022, the Libyan Parliament announced the unanimous appointment of Fathi Bashagha as the new Prime Minister. But outgoing PM Abdel-Hamid Dbaiba warned that the appointment of a new interim government could lead to war and chaos in the country. He renewed his pledge to only hand power over to an elected government.
In July, US Ambassador to Libya, Richard Norland claimed that Washington supports the efforts of the African Union to resolve the Libyan crisis.
The US Embassy said in a statement that Washington is "supportive of efforts by Libya and its international partners to build a unified and inclusive government that can both secure the country and meet the economic and humanitarian needs of the Libyan people."
Norland affirmed that the US supports ongoing efforts by the AU to help implement a roadmap on reconciliation. He added that the US supports a "reconciliation that will bring Libyan stakeholders from across the country, as well as international partners together in support of durable peace, the unification of institutions, peaceful elections, a stable democratic transition, and economic prosperity for the Libyan people."