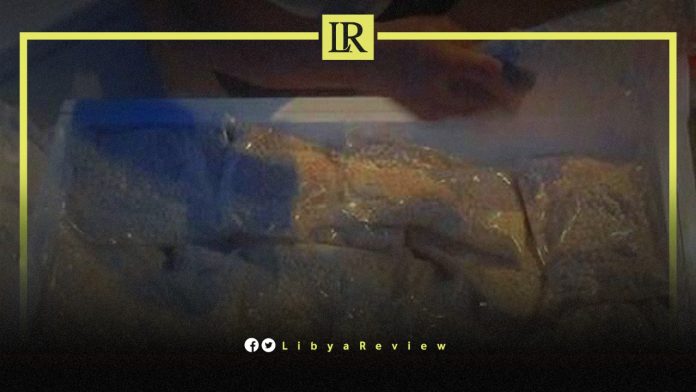 On Saturday, the Public Prosecutor's Office announced the seizure of 14,910 pieces of hashish and 829,830 narcotic tablets (Drugs). These were hidden in a container designated for transporting durable goods coming from Turkey, at the seaport of Misrata.
The office ordered that the perpetrators be referred to the competent authorities to complete all legal procedures against them, and confiscate the narcotics.
In September, the Libyan Customs Authority said that it had thwarted the smuggling of huge quantities of narcotic tablets concealed inside a car on the Libyan-Tunisian border at the Wadi El Bir region.
"After an investigation, officers were able to seize 270,000 narcotic tablets," the Customs Department said in a statement. They also found five bags of Heroin, weighing 2.5 kilograms.
The operation was reportedly led by Algerian smugglers. This was part of the efforts exerted by the Customs Authority to impose security and the rule of law, along the Libyan-Tunisian border.
In May, the Head of Libya's INTERPOL National Central Bureau, Adel Bentaleb claimed that there has been a marked increase in drug traffickers using Libya as a transhipment point. This includes drugs from as far as South America.
"While many of these drugs are neither produced nor consumed here, this has not spared us from the violent crime inevitably wrought by such activity, which we are determined to combat alongside INTERPOL," Bentaleb said.
INTERPOL has said drugs worth nearly €100 million euros have been seized in Africa and the Middle East, during a large international police operation in March and April of 2021.
In December 2021, Benghazi's police service seized about 800kg of cannabis hidden inside a truck in the city of Ajdabiya. The Anti-Drugs Department has estimated the drugs' value at about 14 million Libyan dinars. The shipment is believed to have originated from Algeria and was smuggled to the Libyan city of Zintan, it was en route to Tobruk where it was due to be distributed.
The drug trade in Libya has proliferated since the 2011 civil war. the Maltese authorities have recently seized 612kg of cocaine en route to Libya, in a record-breaking haul worth some €69 million euros.