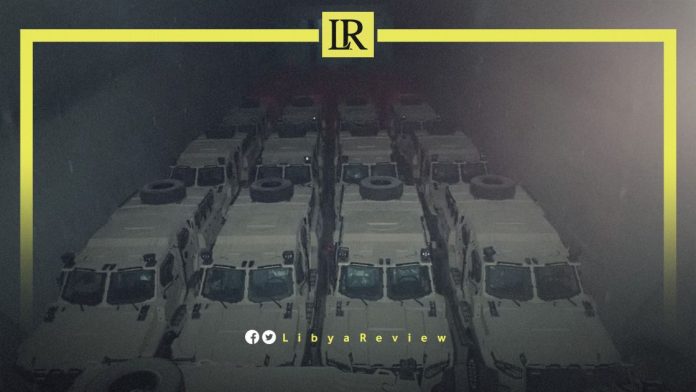 The European Union's Naval Operation, IRINI announced the seizure of dozens of military vehicles en route to Libya, in possible violation of the UN arms embargo.
The inspection was conducted on 11 October, according to the statement. IRINI inspected the merchant vessel, MV MEERDIJK off the coast of Libya.
This is the second time IRINI has seized cargo in implementation of UN Security Council Resolution (UNSCR) 2292 (2016) in less than three months. "One of the European military vessels operating in the Central Mediterranean Sea for Operation IRINI detected the ship on its way to Libya," it added.
"Upon Operation IRINI's request, in accordance with UNSCR 2292, the Netherlands, as the ship's flag state, gave its consent without delay for the inspection. On 11 October, a boarding team was sent on board to verify the nature of the vehicles," the statement said.
The vehicles were seized and the ship was diverted to a European port for further inspection. Following the inspection by the UN Panel of Experts, the vehicles were disembarked and stored ashore.
IRINI pointed out that it has carried out 25 inspections at sea, since March 2020. In accordance with the relevant UN Security Council Resolutions.
"All UN members are called to cooperate with such inspections. Since the beginning of the Operation, only one nation has denied on nine occasions its consent," it said, without mentioning the country .
Operation IRINI stressed that it will "continue to support, effectively, and impartially, the implementation of the UN arms embargo on Libya."
Notably, Italy's Rear Admiral Fabrizio Rutteri handed over his duties to Greek Rear Admiral Stylianos Dimopoulos.
The ceremony, which took place on 1 October at the Taranto Naval Base, was attended by the Italian commander of the IRINI operation, Rear Admiral Stefano Turchetto.
The 'Aegeon' frigate took over the duties of the Italian frigate, 'ITS LIBECCIO' with an on-board operational staff in support of the commander, staffed by Greeks.