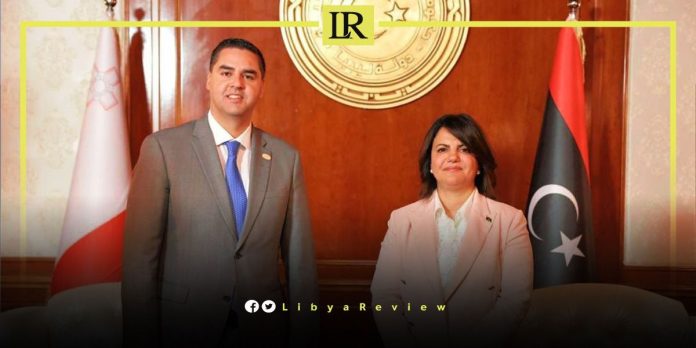 On Sunday, Libya's Minister of Foreign Affairs, Najla Al-Mangoush, held a meeting with her Maltese counterpart, Ian Borg, in Tripoli to discuss ways of activating bilateral agreements between the two countries.
During the meeting, the Libyan and Maltese Foreign Ministers talked about strengthening bilateral relations in several fields, including energy, education, health, and illegal immigration, according to a statement issued by the Libyan Foreign Ministry.
The discussion also included increasing consular cooperation, facilitating visa procedures for citizens of both countries to encourage private sector work, as well as opening airspace and starting flights between the airports of Libya and Malta, the ministry said in a statement.
Cooperation in regional and international issues of common interest was also discussed, it added.
The Maltese Minister stressed the depth of the historical relations between the two countries, confirming his country's support for Libyan efforts to agree on a constitutional basis for fair and transparent elections, according to the statement.
He affirmed that his country will continue to put the Libyan file at the top of the European Union (EU) member states' agenda, in order to "ensure security and peace in Libya and its neighboring countries is maintained.
The Maltese top diplomat encouraged all Libyan parties to agree on a constitutional basis and go toward elections as soon as possible.
Borg also stressed that Malta supports the political process in Libya and the efforts led by the United Nations (US) and its Special Representative, Abdoulaye Bathily.
In addition, the Foreign Minister urged all international actors to allow the Libyan people to choose their leaders freely, in order to restore stability and achieve comprehensive reconciliation in the country. This will ensure the stability of the security of the region and neighboring countries.
Libya is politically torn between Fathi Bashagha, who was elected by the Libyan Parliament to lead the country in February, and the Prime Minister of the Government of National Unity (GNU), Abdelhamid Al-Dbaiba, who refuses to relinquish power.
Tensions have been rising for months in Libya as the two Prime Ministers vie for power; rising fears of renewed conflict two years after a landmark truce.