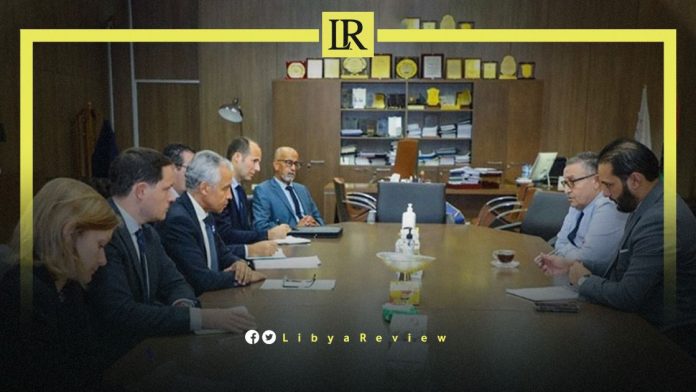 The Governor of the eastern-based Central Bank of Libya (CBL), Ali Al-Hibri met with the French Ambassador to Libya, Mostafa Mihraje in Benghazi. They discussed the obstacles and developments in the unification of the CBL.
The two officials also discussed Libya's economic and financial situation, and "proposed solutions to improve these conditions, and mitigate their negative impact as much as possible, including the decision of the CBL Board of Directors to amend the exchange rate of the Libyan dinar."
Ambassador Mihraje spoke about the efforts Paris is making with all parties to achieve political stability, and economic growth in Libya.
Last week, Al-Hibri expressed his "surprise at stopping the consultations to unify the bank by Governor Al-Siddiq Al-Kabir." He confirmed his support to replace the current governor.
This came in press statements to the Fawasel media platform, during his participation in the annual forum for the development of the banking sector in Libya, held in Tunisia. He said: "The consultations to unify the Central Bank were stopped and suspended by a decision by Al-Kabir. We do not know the reasons for this matter and we are surprised."
Al-Hibri added that he "relied a lot on the steps to unify the Central Bank according to the plan developed by the consulting company, Deloitte, based on the principle of decentralized operation of the bank." He indicated that this "did not satisfy the governor, so he suspended the consultations."
He stressed that "power must be distributed to everyone so that the CBL would play its role in serving and stimulating the country's national economy, and not in serving a region or faction."
Al-Hibri confirmed his support for the Libyan Parliament and the High Council of State (HCS) in changing the current CBL Governor.
"This would be an application of the principle of peaceful transfer of power. Al-Kabir and I have been in our positions since 2011, and that is a very long time. The adherence to Al-Kabir is now based on a regional point of view because changing the position requires that the governor be from the East, which is rejected by many for regional reasons."
The Libyan official explained that the "global economic crises have affected the economic situation in Libya. As it is a country that relies primarily on the import of food commodities."
He noted that the "import rate has now reached about 90%," confirming that the country's production capacities are disrupted. He also added that "there is an imbalance in the production structure, hence the high unemployment rate."