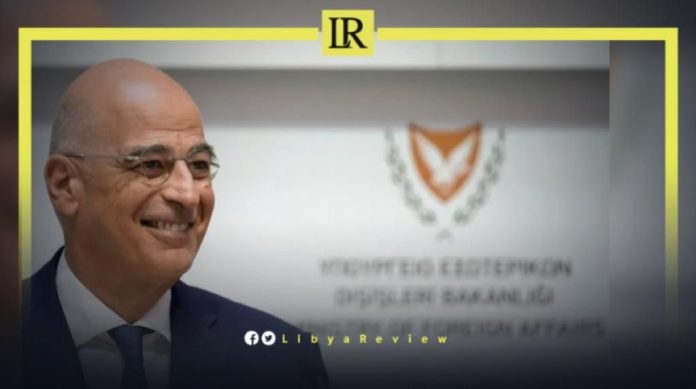 On Thursday, the Greek Foreign Minister, Nikos Dendias cancelled his trip to the Libyan capital, minutes after arriving at Tripoli's Mitiga International Airport, according to the Libyan Foreign Ministry.
After the plane landed, his Libyan counterpart Najla Al-Mangoush was waiting to receive him, "the Greek FM refused to disembark the plane, and returned back Athens without any clarifications," according to a statement. However, Libyan local media reported that Dendias redirected his plane to Benghazi, in Libya's east, where the Libyan Parliament and the rival Bashagha government are located.
The Libyan Foreign Ministry expressed its "deep dissatisfaction and disapproval of the behaviour of the Greek FM." It promised to take diplomatic measures to "preserve the prestige and sovereignty of the state of Libya."
The statement added that Dendias had "adopted crude policies and positions against the interests of the Libyan state."
"Dendias's unbalanced statements affected the sovereignty of Libya, and its right to relations that fulfil the aspirations of its people," the Libyan Foreign Ministry noted.
The statement alludes to the Greek FM's repeated rejection of the recently signed energy agreement between Libya and Turkey.
Libya and Turkey signed a series of economic agreements that included potential energy exploration in maritime areas. The agreements will allow for oil and gas exploration in Libyan waters, and come three years after the two countries signed a maritime border deal, Turkish Foreign Minister Mevlüt Çavuşoğlu said after signing the MoU in Tripoli.
Earlier this month, Dendias reiterated his criticism of the recently signed energy agreement. The deal allows Turkey to explore for oil and gas in a contested maritime zone, in the eastern Mediterranean
In a video message during a conference on energy and security held in Athens, Dendias said the 2019 agreement – "defied not only basic international law, but also fundamental principles of geography."
"We were happy to see that many states have come out to denounce it immediately," the Greek FM added.
During a joint press conference with his Egyptian counterpart, Sameh Shoukry in October, Dendias accused Turkey of exploiting "the turbulent situation in Libya to further destabilize security in the Mediterranean region, and establish a regional hegemony."
Shoukry and Dendias said that the "outgoing" Government of National Unity (GNU) in Tripoli has been illegitimate since 24 December, and has no right to sign international agreements.