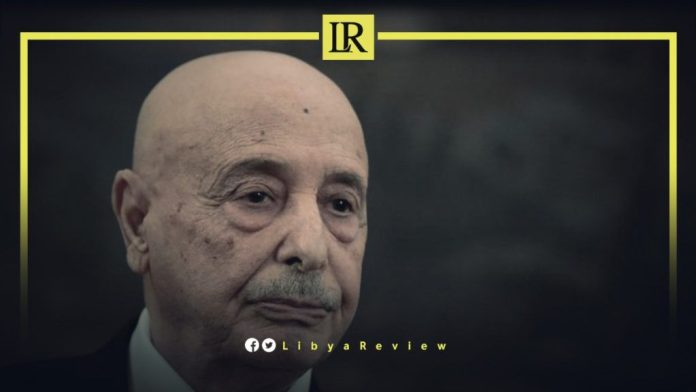 On Monday, 22 Members of the Libyan Parliament called to replace Speaker, Ageela Saleh from his position as Parliament Speaker, and to elect a new speaker from the southern region.
In a joint statement, the MP's said: "We demand a new Parliament Speaker from the Southern region to be elected. Given that the eastern region is represented by the Head of the Presidential Council, while the western region is also represented by the Head of the Government."
According to the statement, the Advisory Committee of the Political Dialogue Forum in Geneva confirmed that the Presidency of the Parliament should be given to the least densely populated region.
The statement was signed by 22 MP's including, "Misbah Ouhida – Muhammad Matoug Ajdid – Muhammad Ibrahim Tamer – Rahma Abu Bakr – Nasr Youssef Muhammad – Khadija Al-Zarooq – Mahdi Masoud Al-Awar – Abu Salah Shalabi – Moaz Rafi – Ahlam Al-Lafi – Hassan Al-Barghouti."
"Ali Al-Takali – Misbah Al-Badawi – Muhammad Al-Raidh – Omar Tantoush – Aisha Al-Tublaqi – Hamad Al-Bundaq – Saad Al-Marimi – Omar Al-Arabi – Ali Kashir – Aisha Shalabi – Ezzedine Qwerb," also signed the statement.
Notably, the Libyan Parliament began a session on Monday, devoted to the law on the unified salary scale for state officials.
Last week, Saleh held a meeting with the Special Representative of the UN Secretary-General, Abdoulaye Bathily.
Saleh and Bathily discussed the latest developments in Libya, and ways to get out of the current impasse and advance the political and security tracks.
They also stressed the importance of paving the way for holding Presidential and Parliamentary elections as soon as possible.
Bathily reiterated his calls for Libyan leaders to come together to accelerate the political process toward elections, and put Libya on the course to peace, stability, and prosperity.
Notably, Libya is politically torn between Fathi Bashagha, who was elected by the Libyan Parliament to lead the country in February, and the Prime Minister of the Government of National Unity (GNU) Abdel-Hamid Dbaiba, who refuses to relinquish power.
Tensions have been rising for months in Libya as the two Prime Ministers vie for power; rising fears of renewed conflict two years after a landmark truce.