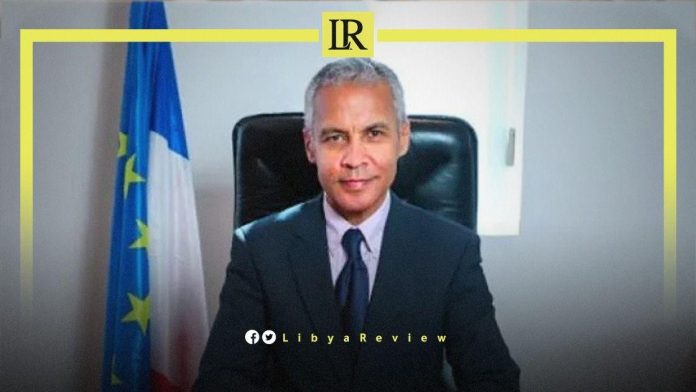 On Saturday, France's Ambassador to Libya, Mustafa Maharaj, affirmed his country's support for consensus between the Libyan House of Representatives (HoR) and the High Council of State (HCS) to reach an agreement on electoral laws and legislation with a view to achieving stability in the North African country.

This came during the French Ambassador's meeting with the Chairman of the HCS, Khaled Al-Mishri, accompanied by his second Deputy, Omar Boushah, Ambassador to Libya, according to the HCS' media office.

During the meeting, which was held at the Libyan capital, Tripoli, the attendees discussed many political issues. They discussed the recent meetings between the two speakers of Libya legislative bodies on reaching a consensual constitutional basis. This aimed to break the political stalemate and hold the long-delayed elections.

Earlier this month, the Speaker of the Libyan Parliament, Ageela Saleh, and the Head of the HCS, Khaled Al-Mishri, agreed to set "a clear and specific" roadmap for elections.

The roadmap aims "to organise elections and unify state institutions," according to a joint statement issued by the two chambers.

Saleh and Al-Mishri met in Cairo on January 5th. They also agreed to create a joint committee to refer the constitutional document to the two chambers for approval.

The two sides affirmed their "keenness to achieve a consensual constitutional basis, to reach the presidential and parliamentary elections."

Meanwhile, the Prime Minister of the Government of National Unity (GNU), Abdelhamid Al-Dbaiba accused Saleh and Al-Mishri of plotting "suspicious deals."

During a Cabinet meeting, Al-Dbaiba said that "Al-Mishri and Saleh are still in their positions, which has left the Libyans with continuous disappointments. The Parliament Speaker and the Head of the HCS are searching for new ways to share power, through suspicious deals."

Al-Dbaiba affirmed the readiness of his government and the High National Elections Commission (HNEC) to hold elections. "This year will be the year of elections, and the unity of institutions," he said.