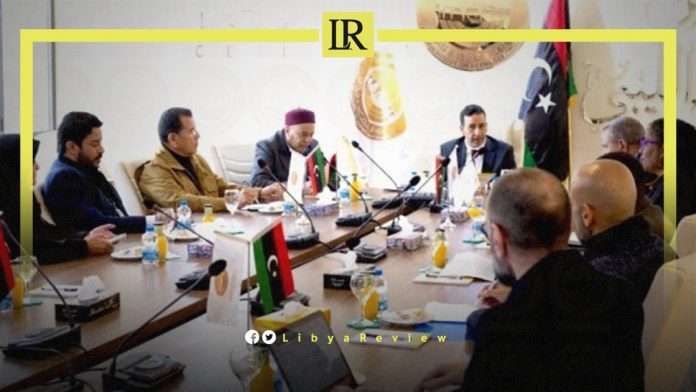 On Tuesday, members of the Libyan Parliament, led by Deputy Speaker Fawzi Al-Nuwairi, held a meeting with a delegation of the UN Sanctions Committee in Tripoli.

The meeting discussed issues related to the human rights situation in the country, and ways to address them. In light of the special attention that the United Nations attaches to this file.

The attendees also reviewed the work of the United Nations Support Mission in Libya (UNSMIL), and the obstacles hindering dialogue. In addition to the role of local and international parties in helping bring an end to the political impasse in Libya.

Two days earlier, the Special Representative of the UN Secretary-General to Libya, and Head of UNSMIL, Abdoulaye Bathily said that "the time has come for elections to proceed towards building legitimate institutions, and creating appropriate conditions for achieving stability."

Bathily called on all actors in the Libyan scene to "take responsibility for finding solutions as soon as possible." He also expressed his appreciation for the participation of Libya's neighbours to help "overcome the current crisis, and contribute to the return of stability in the country."

The UN Envoy stated that the "region needs Libya to be a stable country that performs its regional role, and achieves progress, stability, and peace for its people. It is time for Libyan leaders to reunite and work to find a Libyan-Libyan solution to this crisis."

"It is the time to go for elections, to form bodies that have the legitimacy to sustain progress, so that Libya can regain its position as part of the United Nations family, and play its role in the humanitarian movement towards progress," Bathily added.

Notably, Libya headed the 158th session of the ministerial consultative meeting of the Arab League Council, with the participation of several foreign ministers and representatives of Arab states.

The overwhelming majority of Arab countries boycotted the ministerial meeting on Sunday. Only five of the Arab League's 22 members sent their Foreign Ministers. Four members sent lower-ranking ministers or ambassadors, while Arab League Chief, Ahmed Aboul Gheit was also absent.

Regional heavyweights Egypt, Saudi Arabia, and the United Arab Emirates did not attend.

Libya's current political stalemate grew from the failure to hold elections in December 2021 and Prime Minister Abdel-Hamid Dbaiba's refusal to step down. In response, the country's eastern-based Parliament appointed Fathi Bashagha, who has sought to install his government in Tripoli for months.

The protracted stand-off between the two governments led to bouts of clashes in Tripoli last year, risking the return of civil war to the oil-rich nation after months of relative calm.

The North African nation has plunged into chaos after a NATO-backed uprising toppled and killed longtime dictator leader Gaddafi in 2011. Libya has been virtually ruled by a set of rival militias and armed groups in the east and west.