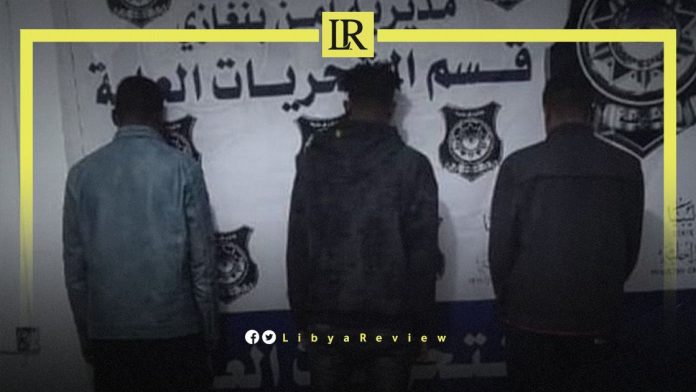 Libyan police have arrested three Sudanese nationals suspected of smuggling cars into Sudan, according to a statement by the Benghazi Security Directorate.

The statement said that the General Investigation Department raided the suspects' house, after receiving information regarding their involvement in car smuggling operations.

The security forces found a fake 20 Libyan dinar note in the house, in addition to a scale used to weigh gold.

The three men confessed that they smuggled vehicles to Sudan. When questioned about the counterfeit currency and the scale, they denied that these belonged to them.

They were referred to the Public Prosecution to complete the investigations.

Last month, Libyan police arrested two Chadian nationals, accused of smuggling 1,200 liters of fuel, according to Libyan News Agency (LANA).

A security source at North Jalu police station told a LANA correspondent that they received information about Chadian nationals smuggling fuel through a four-wheel vehicle, to sell on the black market.

The source added that the car was confiscated, the men detained, and referred to the Public Prosecution.
Moreover, a ship loaded with one million liters of fuel, in western Libya, was stopped last month before leaving the shores of Zuwara port, sources at the Stability Support Apparatus told Libya's Al-Hadath.

The sources added that the shipment was being prepared to be smuggled out of the country. "The operation comes within the work of the committee formed by the Libyan Parliament to combat human and fuel smuggling in the Mediterranean," the sources said. They added that the operation was undertaken in coordination with the Attorney General's Office.

Last November, the European Union Delegation to Libya said that strengthening cross-border cooperation between Libya and the countries of the Sahel region, and understanding how to confront smuggling, terrorism and organized crime, must be better.

In a statement, the mission stressed the need to know how to meet the challenges of border management more effectively. It added that this requires a high level of political participation and a great deal of technical expertise.