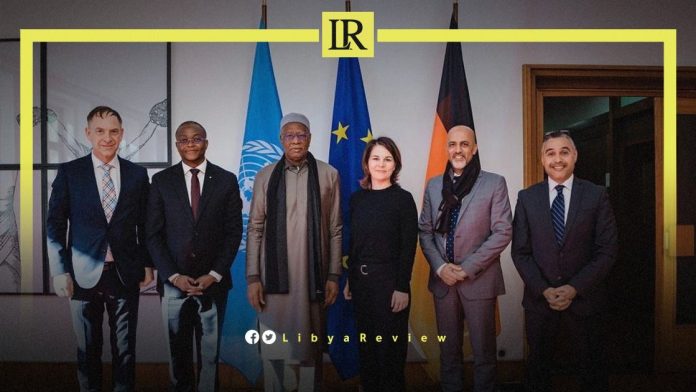 On Wednesday, the German Foreign Minister, Annalena Baerbock held a meeting with the Special Representative of the UN Secretary-General to Libya, Abdoulaye Bathily in Berlin. The two sides discussed ways to help Libya find a way out of its political deadlock, and move toward elections.

Baerbock indicated that the meeting "touched on ways of support for the efforts of the United Nations to bring back peace and prosperity to Libya," noting that "this is what the Berlin Process is all about."

"The UN mission can count on Germany's support," the minister confirmed. She also stressed the importance of completing the constitutional basis, and holding Presidential and Parliamentary elections as soon as possible.

Baerbock indicated that Germany believes that "elections are the only way to solve the prolonged crisis in Libya," reiterating Berlin's rejection of instability and unilateral actions in the country.

In turn, Bathily tweeted, "I consulted with the German Foreign Minister on the political and security situation in Libya.

"We called on Libyan institutions to focus on preparing for Presidential and Parliamentary elections in 2023, and encouraged the international community to speak with one voice in supporting the popular aspiration for legitimate institutions expressed by the Libyans," he added.

Notably, in September, Germany hosted a global conference on Libya to discuss the political stalemate, with the participation of representatives of France, Italy, the United Kingdom, the United States, Turkey, and Egypt. "Together with our partners, we remain committed to continuing these efforts," the German Foreign Office said.

Libya is again politically torn between two rival governments, in the east and west. The Libyan Parliament-designated Prime Minister, Fathi Bashagha, and incumbent PM Abdel-Hamid Dbaiba, as the latter refuses to relinquish power until elections.

The current stalemate grew out of the failure to hold elections in December, and the refusal of Dbaiba, who is leading the transitional government, to step down. Tensions have been rising for months in Libya as the two leaders vie for power; raising fears of renewed conflict two years after a landmark truce.

The UN has been pushing the rival parties to hold elections, in order to resolve the legitimacy crisis.