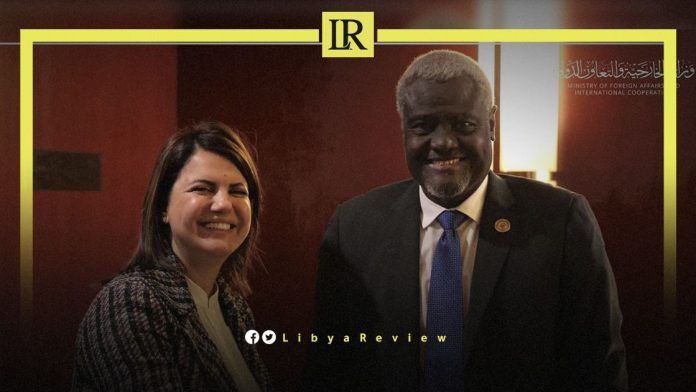 On Wednesday, the Chairman of the African Union Commission (AUC), Moussa Faki Mahamat said that the reconciliation process in Libya "has taken significant steps in the preparation for the inter-Libyan reconciliation conference."

This came during Faki's meeting with the Libyan Minister of Foreign Affairs, Najla Al-Mangoush, who is participating in the 42nd Ordinary Session of the Executive Council in Addis Ababa.

During the meeting, Faki stated that the High-Level Committee on Libya, chaired by President Denis Sassou Nguesso has taken significant steps in the preparation of the inter-Libyan reconciliation process.

"I am convinced that the meeting of the high-level committee to be held on 17 February will give a strong impetus to this salutary action, in solidarity with the Libyan people," he said. He also praised Libya's historical role in Africa, stressing that the country has provided much to the AU Commission.

The two sides discussed the importance of benefiting from the experiences of African countries that have faced similar conflicts and political crises.

Earlier today, Al-Mangoush took part in the 42nd session of the AU Executive Council. The Foreign Ministry said that it had "prepared integrated files covering separate items of the approved agenda for the ministerial meeting, with the aim of restoring Libya's role in the work of all African Union institutions after years of Libya's absence, and presented the Libyan file and clarified its position on all issues related to its African environment."

The meeting, which ends Thursday, will discuss accelerating the implementation of the African Continental Free Trade Area, activating the African Medicines Agency, and the African Center for Disease Control. In addition to discussing issues related to strengthening and accelerating the process of activating the African Union's Agenda 2063.

During the preparatory meeting for the National Reconciliation Conference in Libya held in January, Faki affirmed that the "national reconciliation file constitutes the main step toward elections in Libya."

"We will always be with Libya, which has a pioneering role in establishing the African Union. The AU will be grief-stricken if the presence of foreign forces continues on Libyan territory, the AUC chairperson added.

He added that "the way to solve the crisis is through national reconciliation, not sharing positions and power."

Libya has been in chaos since a NATO-backed uprising toppled longtime leader Muammar Gaddafi in 2011. The county has for years been split between rival administrations, each backed by rogue militias and foreign governments.

The current stalemate grew out of the failure to hold elections in December, and the refusal of Prime Minister Abdel-Hamid Dbaiba, who is leading the transitional government, to step down. In response, the country's eastern-based Parliament appointed a rival Prime Minister, Fathi Bashagha, who has for months sought to install his government in Tripoli.