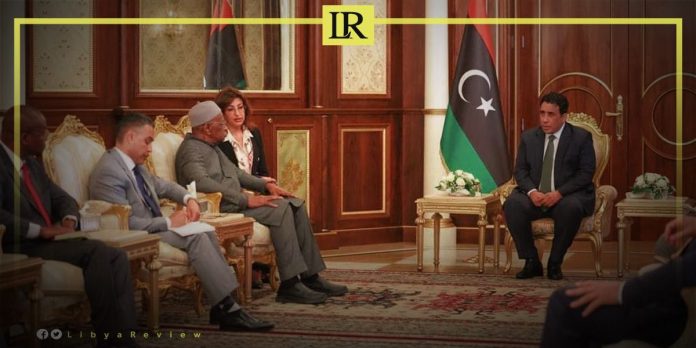 On Monday, the UN Envoy and Head of the United Nations Support Mission in Libya (UNSMIL), Abdoulaye Bathily held talks with the Head of the Libyan Presidential Council, Mohamed Al-Mnifi. They discussed an internationally-coordinated exit of mercenaries and foreign forces from Libya

Bathily gave a full briefing on his recent visits to Sudan, Niger, and Chad. In addition to his meetings with a number of local parties, and the 5+5 Joint Military Commission (JMC) members.

He praised Al-Mnifi's support for holding elections before the end of 2023, saying that the Presidential Council is a key partner in the United Nations' plan to organize elections.

Bathily added that Sudanese and Chadian officials affirmed their commitment to "pursue cooperation and support for a coordinated withdrawal of all mercenaries and foreign forces, and their reintegration into regular forces." He called for UN support to enhance border security between Sudan, Chad, and Libya.

He affirmed that the foreign presence in Libya "poses a critical risk to peace and stability in the country and the region. We need to work with our partners to address this challenge without negatively impacting Libya's neighbouring countries."

On 27 February, Bathily announced an initiative aimed at enabling legislative and Presidential elections this year, and will set up a high-level steering panel, he told the United Nations Security Council earlier this month.

The proposed mechanism will bring together all relevant Libyan stakeholders, including representatives of political institutions, major political figures, tribal leaders, civil society organizations, security actors, women, and youth representatives.

Bathily noted that the initiative will facilitate the adoption of the legal framework and time-bound roadmap to the holding of elections in 2023.

The proposed panel will also "provide a platform to advance consensus around related matters, such as election security and the adoption of a Code of Conduct for all candidates," he added.

Libya is currently facing a political crisis after the Libyan Parliament swore in a new Prime Minister, former Interior Minister, Fathi Bashagha in February 2022. MP's argued that the incumbent Prime Minister, Abdel-Hamid Dbaiba's mandate expired when the elections failed to take place.