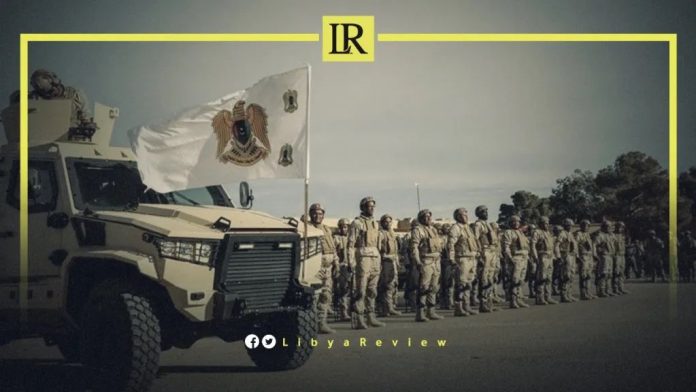 On Sunday, the Libyan National Army (LNA) announced that they had arrested an IS-affiliated cell, linked to extremist elements outside the country.

In a statement, the LNA's War Information Division said that the cell was "preparing to carry out terrorist attacks targeting the army's military units."

The Division confirmed that six terrorists, including women were arrested. This was a joint effort between the Anti-Terrorism Department of the LNA's General Command and the Internal Security Service in the Eastern Region, after monitoring their movement for two months.

The statement stressed that LNA forces will "continue their efforts for uprooting terrorism to preserve the security and stability of the country."

Last year, the LNA's official Spokesman, Major General Ahmed Al-Mismari said the operations to purge southern Libya of terrorists and Chadian smugglers continued.

Al-Mismari pointed out that the Chadian groups present near the Libyan border are opponents of the Chadian government. He explained that "arms smugglers, human traffickers, and gangs are present with those Chadian rebels. These gangs and rebels were controlling the southwest of the country, and some groups were roaming in the southeast around the city of Kufra in the triangle of the Libyan-Sudanese-Egyptian border."

Al-Mismari articulated that the crisis in northern Chad prompted some elements -whether from the armed opposition or gangs- to enter Libyan territory.

Regarding the presence of IS elements in the south of Libya, he explained that the organisation is present in small groups in the southwest, where it benefits from the nature of the geography in the region.

Al-Mismari said that "Al-Qaeda exists in variable numbers according to circumstances and that its elements are trying to maintain lines of communication between groups in Libya, Mali, Niger, and Boko Haram." LNA forces had eliminated one of the hideouts of the Al-Qaeda in the south.