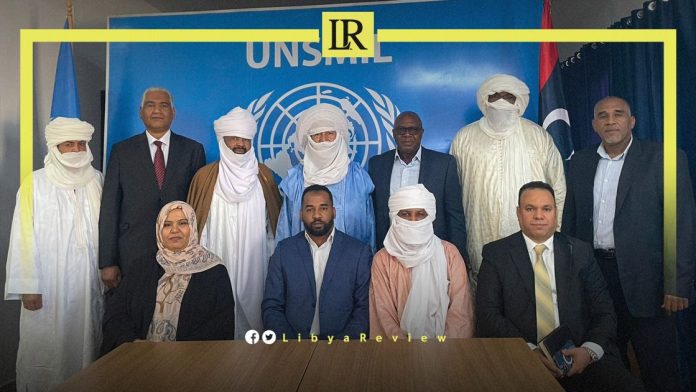 Assistant Secretary-General and Mission Coordinator of the United Nations Support Mission in Libya (UNSMIL), Raisedon Zenenga received a delegation of Tuareg community notables, and civil society representatives who shared their views and concerns.
The visit came as part of the UN Envoy to Libya, Abdoulaye Bathily's initiative to secure elections in the country.
According to a statement by UNMSIL, the Tuareg delegation "expressed full support for Bathily's initiative and called for elections without further delay. They stressed the need for the inclusion of cultural components in the political process, and equal representation of the south in Libyan institutions."
They also reiterated the "longstanding demand of disenfranchised members of cultural components in the south to be accorded full rights as citizens, and for women's representation in Parliament to be secured through a 30% quota."
Zenenga assured the delegation of UNSMIL's support to relay and amplify their messages to Libyan leaders, and relevant institutions.
On February 27, Bathily announced an initiative aimed at enabling legislative and Presidential elections this year, and will set up a high-level steering panel, he told the United Nations Security Council earlier this month.
The proposed mechanism will bring together all relevant Libyan stakeholders, including representatives of political institutions, major political figures, tribal leaders, civil society organizations, security actors, women, and youth representatives.
Bathily noted that the initiative will facilitate the adoption of the legal framework and time-bound roadmap to the holding of elections in 2023. The proposed panel will also "provide a platform to advance consensus around related matters, such as election security and the adoption of a Code of Conduct for all candidates," he added.
He added that his initiative "aims to break the political deadlock, stir up the stagnant waters, and involve everyone in drawing the electoral path."
In an interview with Al-Sharq Al-Awsat newspaper, Bathily noted that UNSMIL looks at the unification of power in Libya "realistically."
"The unification of the government must be approached at this sensitive time with a lot of caution, because this issue may create indispensable complications for Libya," he said.