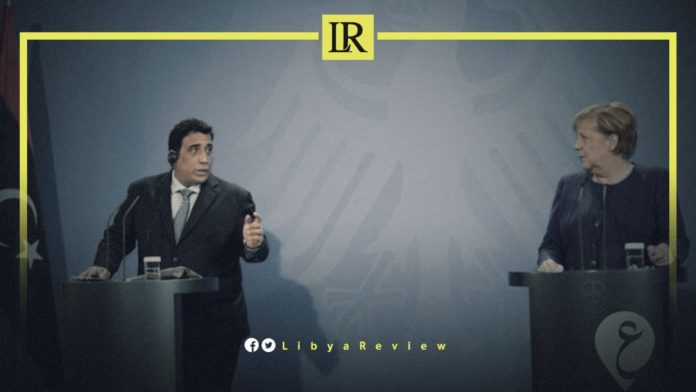 On Friday, the Head of Libya's Presidential Council, Mohamed Al-Mnifi, held a joint press conference with the outgoing German Chancellor, Angela Merkel.
Al-Mnifi discussed with Chancellor Merkel the proposed initiatives in the event that the elections legal and constitutional obstructions continue during this period.
Al-Mnifi said that the discussions included talks about unifying the military, and the remaining state institutions, working on national reconciliation, and expelling mercenaries from the country.
In turn, Merkel confirmed that Germany will remain committed to supporting Libya, even after the government changes in Berlin. "I can assure you that in the coming weeks and months as well, even if we now have a transition from one government to another, the Libyan issue will remain a priority for Germany," she said.
Merkel stressed the need for foreign mercenaries to withdraw from Libya as soon as possible.
She stressed that "the future of Libya should be determined by the Libyan forces and Libyan citizens, not by foreign influence."
Last week, German Ambassador to Libya, Michael Ohnmacht held a phone call with the Libyan Parliament Speaker, Ageela Saleh, and Head of the High Council of State (HCS) Khaled Al-Mishri.
In a tweet, Ohnmacht said that he had constructive phone calls with Saleh and Al-Mishri. "I expressed my concerns about the possible repercussions of the latest developments, and stressed the need for compromise by all parties. We have to focus on elections in December."
On Monday, the HCS called on the Libyan Parliament to postpone the presidential elections scheduled for 24 December, for at least a year.
Saleh announced his ratification of a presidential election law issued on 9 September. The HCS has rejected this move, claiming it would not recognize the law, "that was passed without a legal vote or consensus."
Al-Mishri said in a press statement that they have prepared a constitutional rule and proposed to include it in the constitutional declaration. As well as proposing to hold parliamentary elections first to establish a two-chamber parliament, senators and representatives.
"Then for a year, the draft constitution will be reviewed and approved, and the date of the presidential elections will be set, which we do not see as generating stability in Libya at the present time," he stated.
Al-Mishri claimed that the HCS possesses some competencies in partnership with the Parliament, "According to the political agreement, laws are ratified, after consensus between the two houses," he said. He added that the approval of the presidential election law was an attempt to "obstruct the elections."