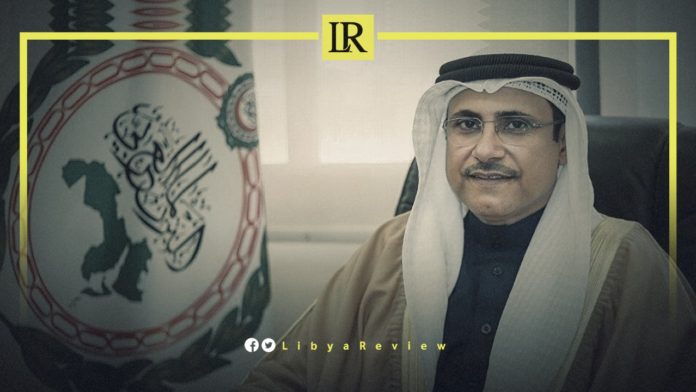 On Saturday, the Speaker of the Arab Parliament, Adel bin Abdul Rahman Al-Assoumi, affirmed the Arab Parliament's full support for the Libyan people in this critical stage of their country's history.
In his speech during the first session of the Arab Parliament's third legislative term, held today at the headquarters of the General Secretariat of the Arab League, Al-Assoumi called on all Libyans to unite and uphold the country's supreme interest.
The Speaker also stressed the need to move forward towards holding the country's presidential and parliamentary elections, scheduled for December 24th. He said that it is an essential step for achieving national consensus and enhancing internal security and stability.
He also highlighted the importance of preserving security and sovereignty of the Libyan state.
During the session, the Arab Parliament Speaker announced the launch of the Arab Center for Combating Terrorism and Extremist Ideology, which aims to provide technical support to Parliamentarians in this vital field.
He expressed his aspiration that the centre would become a regional and international hub for supporting parliamentary efforts in the field of combating terrorism and extremist ideologies.
Al-Assoumi also warned of the danger of not completing the Libyan elections on time, noting that this matter endangers the stability of the region and may open the way for a new phase of violence and conflict.
The first elections since the end of the war between the Tripoli-based Government of National Accord (GNA) and Benghazi-based Libyan National Army (LNA) are scheduled for December 24th.
Libya has been submerged in chaos since a NATO-backed uprising toppled longtime ruler Moammar Gaddafi in 2011. A 2019 assault on Tripoli by Field Marshal Khalifa Haftar, Commander of the LNA resulted in the introduction of mercenaries in Libya's civil war.
Last month, United Nations (UN) Special Envoy to Libya, Ján Kubiš said that starting the withdrawal of foreign fighters from the country would be a major step for Libya. The UN estimates that there were at least 20,000 foreign forces and mercenaries in Libya, including Syrian, Sudanese, and Chadian nationals.