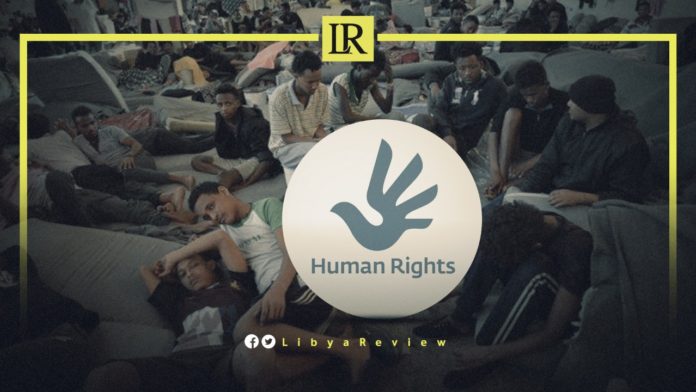 On Wednesday, Human Rights Watch (HRW) claimed that more than 2,000 African asylum seekers, refugees, and migrants have been camping since early October 2021 in precarious conditions in front of a shuttered United Nations facility in Tripoli. The migrants are in dire need of shelter, food, and medical treatment, according to the organisation.
HRW called on the Libyan authorities to respond to this humanitarian emergency. It also urged European states, whose support enables the Libyan authorities to prevent people from reaching the continent, to scale up humanitarian evacuations.
Thousands of migrants and asylum seekers gathered around the Community Day Centre (CDC) after the Interior Ministry conducted widespread raids and shelter demolitions in Tripoli's Hai Al-Andalous municipality reported the Human Rights Watch.
Thousands of migrants were left homeless. They are now demanding to be evacuated from Libya to a safe location, amid worsening humanitarian conditions and attacks by armed groups.
"By demolishing migrants' and asylum seekers' makeshift shelters, Libyan authorities manufactured a humanitarian crisis, leaving thousands of people fending for themselves in the streets," said Hanan Salah, Libya Director at Human Rights Watch.
"Libya and European states should urgently respond to this rapidly deteriorating situation as people are being exposed to violence, and lack any help for basic needs," the Human Rights Watch Official added.
On 1 October, security forces arrested at least 5,000 people, including women, children, and UNHCR-registered asylum seekers and refugees, and transferred them to detention centers.
During the raids, one person was killed and 15 others were wounded, according to UNHCR.
HRW said it has documented systematic and widespread abuses committed with impunity against migrants in Libya over the years by prison guards, armed groups linked to the authorities, traffickers, and smugglers.
"Between January and September, the authorities intercepted more than 27,551 people at sea and forced them back to Libya, where they face inhumane detention conditions, sexual violence, torture, forced labour, extortion, and death," Human Rights Watch noted.
Human Rights Watch added that the EU is complicit in these abuses, as it supports the Libyan authority in its violations against migrants. It urged EU member states to cooperate with the Libyan authorities on migration. As well as ensure the prompt release of all refugees, asylum seekers, and migrants being arbitrarily detained.