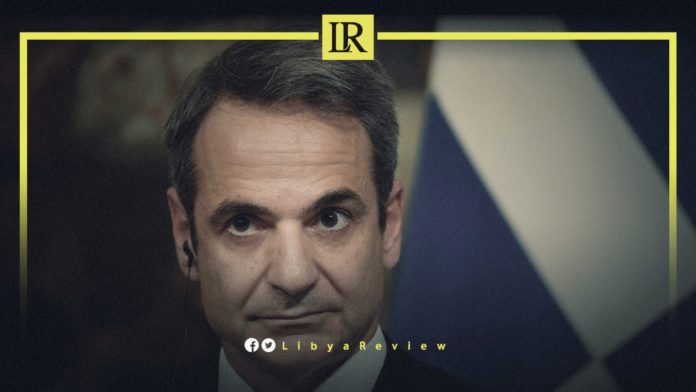 On Friday, the Greece Prime Minister, Kyriakos Mitsotakis, called for the withdrawal of all foreign forces from Libya. He did this during an international conference in Paris which was attended by leaders from 30 countries.
The international conference on Libya, aimed at ensuring Libya adheres to a plan to hold elections in December and turn a new page in its history, was hosted by French President, Emmanuel Macron.
It was the first of its kind attended by Greek Prime Minister and Cyprus' President, Nicos Anastasiades.
In June 2021, Greece expressed anger over the decision by Germany to exclude Greece from the Berlin Conference on Libya, in which Turkey participated.
Mitsotakis said that Greece is ready to collaborate with Libya's new government which will result from December's elections, both in bilateral terms and also as a member country of the European Union (EU).
He also said that Greece is prepared to restart talks for the delimitation of maritime zones with a truly representative government of Libya, elected freely by the Libyan people and respecting international laws.
"As Libya's neighbouring country, Greece would like to see Libyans live securely and prosper, guided by an accountable and strong government that has rid itself of foreign influences and ties to the past," noted the Greek Prime Minister.
"But the key to peace and stability in Libya is the withdrawal of all foreign forces and mercenaries as soon as possible," he added.
Prime Minister Mitsotakis thanked French President Macron for organising the Paris conference on Libya and expressed his satisfaction with Greece's participation as Libya's nearest neighbour to the North.
Libya has been mired in civil war since the overthrow of its longtime leader Moammar Gaddafi in a 2011 uprising, with the conflict including competing Libyan factions and armed groups, as well as regional powers.
The presidential vote on December 24th, along with legislative elections, are the core parts of a United Nations' (UN) plan to help restore stability, but this schedule has been under pressure as tensions resume between rival camps, Al Jazeera reports.