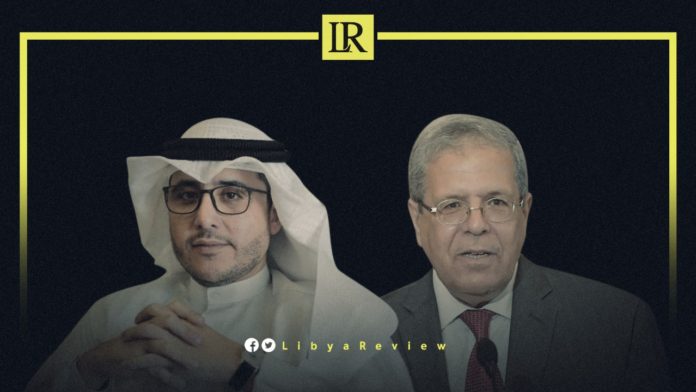 The Tunisia Foreign Minister, Othman Jerandi, held a meeting with Kuwaiti counterpart Sheikh Dr. Ahmed Nasser Al-Mohammed Al-Sabah on, the sidelines of their participation at the Paris Conference on Libya on Friday.
The conference was attended by more than 30 countries and hosted by the French President, Emmanuel Macron; the German Chancellor, Angela Merkel; and the Italian Prime Minister, Mario Draghi.
During the talks, the two Ministers discussed their countries' support for a comprehensive political settlement in Libya, and to create the best conditions for success for the upcoming elections, considering the current stage as a pivotal in the country's history.
The two Ministers stressed the need to dismantle armed groups and remove all mercenaries in order to preserve the security and stability of Libya in particular, and the Arab world in general.
They also affirmed their readiness to help Libya in continuing its political track in a way that supports its leadership and ownership of the settlement path away from any foreign interference.
Notably, Tunisia and Kuwait, which chairs the current session of Arab Foreign Ministers Council, participated at a ministerial level at the Paris Conference, which was held on Friday in an attempt to provide international push for the success of the December elections.
The final communique of the Paris International Conference on Libya called for holding the election in the North African country as scheduled on December 24th.
The statement also called for forming a reconciliation commission under the auspices of the country's Transitional Presidency Council.
The participants stressed full respect for Libya's sovereignty, independence, territorial integrity and national unity and their commitment to rejecting all foreign interference in Libyan affairs.
The presidential vote on December 24th, along with legislative elections, are the core parts of a United Nations (UN) plan to help restore stability, but this schedule has been under pressure as tensions resume between rival camps.
Libya has lurched from crisis to conflict to civil war since the removal of Moammar Gaddafi in 2011 in a NATO-backed uprising — with Islamist extremists attempting to exploit the turmoil and migrants embarking on often-fatal treks to Europe to flee it.