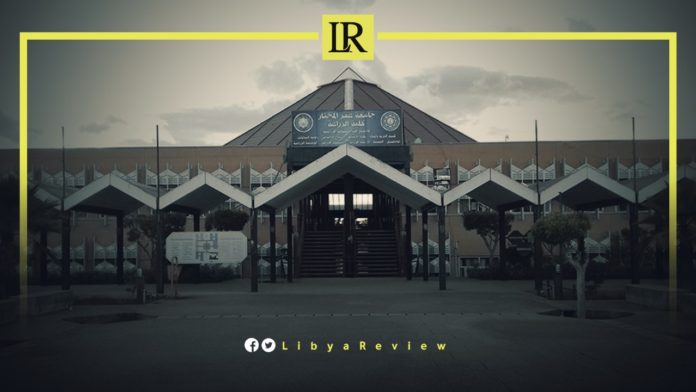 In a statement the employees of the Libyan Omar Al-Mukhtar University (OAMU) in the city of Al-Bayda announced a complete strike from the university until they consider the settlement of their salaries and their financial conditions, similar to the faculty members.
The strike comes after a meeting held on Thursday at the university against the background of the financial settlement that affected faculty members without including employees.
According to the university administration, this will be linked to the announcement of the start of the new academic year at the OAMU.
The OAMU began its scientific and educational career at the Faculty of Agriculture in 1975, which was the first building block and the cornerstone of this pioneering university.
In record time, the university was able to advance its scientific pillars, which constitute twenty-two major colleges and sixteen sub-faculties that were established since the academic year 1985-1986. It has a scientific ability in various disciplines of applied sciences and humanities.
It is the first Libyan university chosen by the Union of Arab Academics and Scientists of the League of Arab States to be its expert member. With the efforts of all employees, this prestigious institution, the OAMU, is being promoted.
The OAMU is a public university in Bayda, Libya. it is the third-largest university in Libya after the University of Tripoli and the University of Benghazi. It was founded in 1961 and grew to be a moderately religious institute that taught practice regarding scripture reading and interpretation.
However, after Moammar Gaddafi's 1969 coup d'état, educational reforms were implemented that caused the shut down of the Islamic departments replacing them with scientific departments.
The university has four campuses in the following cities, Bayda (the Old University and the New University), Al Qubah, Derna (Derna University) and Tobruk (Tobruk University). It has twenty faculties on all campuses and educates students from many locations, including Malta, Cyprus, Egypt, Malaysia, Indonesia, Sudan, and Chad.
The Agriculture Building is the oldest on the Bayda campus and is alone capable of housing several thousand students, the university now hosts twenty-three faculties on four campuses that follow the General People's Committee for Higher Education and is officially accredited and recognized by the Ministry of Higher Education and Scientific Research, Libya.