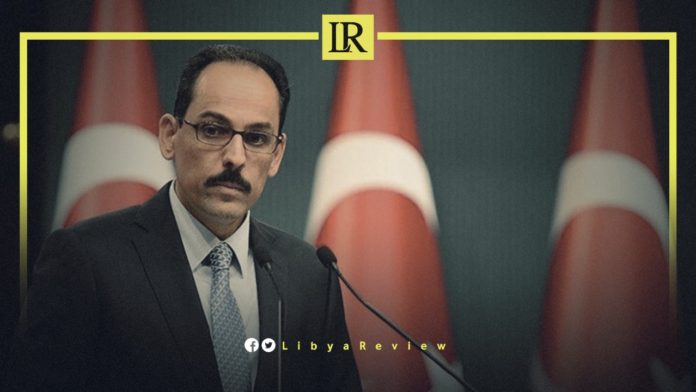 The countdown to holding elections in Libya has started. The international community confirmed its support for this expected democratic event, and the expulsion of mercenaries from the country as soon as possible. Meanwhile, Turkey insists on obstructing these efforts until the last moment. It is ignoring all efforts and international conferences to accomplish the electoral process as the only means for safe and natural democratic change.
Turkish presidential Spokesman, Ibrahim Kalin, announced that his country's military presence in Libya is linked to an agreement with the Libyan government. He objected to their designation of foreign forces and placing them on the level of mercenaries of other countries in Libya.
The Turkish presidential Spokesman went on to describe his country's military presence in Libya as a "force of stability." This was a clear challenge to the outcomes of the Paris Conference on the call for the exit of all foreign forces and mercenaries, according to the plan of the 5 + 5 Joint Military Committee (JMC). He asked about the presence of those he described as Russian mercenaries in Libya saying, "I don't know what our friends and allies in Europe are doing about it."
The Turkish position, which refuses to remove the Syrian military forces and mercenaries from Libya, comes after French President Emmanuel Macron called on Turkey and Russia to withdraw their forces from Libya without delay. Macron pointed out that their presence threatens stability and security in the country and the entire region.
The General Command of the Libyan National Army (LNA), through its representatives in the JMC committee, announced the expulsion of 300 foreign mercenaries from its areas of control. This without being bound by the condition of a simultaneous and balanced exit that was agreed upon in Geneva.