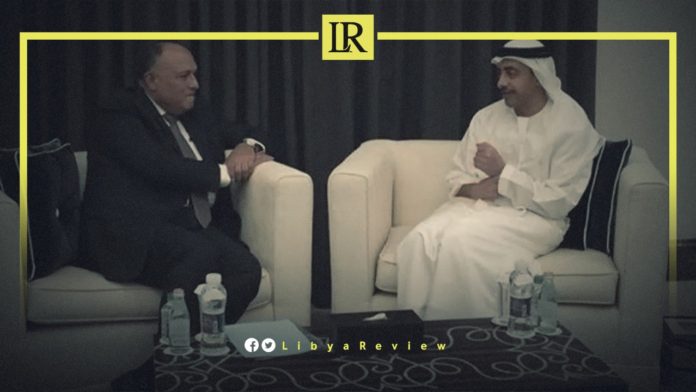 On Sunday, the Egypt Foreign Minister, Sameh Shoukry, held talks with his Emirati counterpart, Sheikh Abdullah bin Zayed Al Nahyan, on the sidelines of the 12th annual 'Sir Bani Yas' Forum, organized by the United Arab Emirates' (UAE) Ministry of Foreign Affairs.
During the talks, Shoukry and bin Zayed underlined the importance of working towards the next stage in order to enhance areas of economic and trade cooperation.
In addition, the two Ministers discussed the latest regional developments foremost of which is the situation in Libya.
They also expressed their hope that the timeframe set for the Libyan elections on December 24th would be respected. They said the election of a new government in Libya would end regional rivalry and also unite the country.
On his part, Shoukry expressed Egypt's support for the withdrawal of all foreign military forces from the neighboring state as that would ensure the restoration of security, stability, sovereignty, and territorial integrity of Libya.
They also tackled ways to strengthen the pillars of Arab national security in the face of the growing challenges witnessed at the regional and international levels. They further discussed means to enhance cooperation and joint coordination between the two brotherly states.
Moreover, Shoukry reaffirmed Egypt's firm position on supporting the security and stability of the Gulf states.
Notably, the Egyptian President participated in an international conference on Libya, which was hosted by France on Friday.
In his speech at the Paris Conference on Friday, President El-Sisi called for setting a timetable for the withdrawal of all foreign troops and mercenaries that entered Libya after 2011.
He reiterated that Egypt is willing to support the Libyan authorities to implement the 5+5 Joint Military Commission's (JMC) plan in this regard. It is also committed to supporting uniting Libyan institutions and building capacities so that Libyans can preserve their wealth and are able to determine their fate.
El-Sisi called on all parties, inside and outside of Libya, to cease imposing the fait accompli policy. It also called for stopping to provide safe havens or any form of support for terrorist and extremist groups or transferring their members from one country to another. All of this will hopefully bring Libya out of its crisis and alleviate the suffering of its people.
The Egyptian President also called on Libyan parties to resolve all disagreements and expel foreign troops from their country to build a free and independent state.