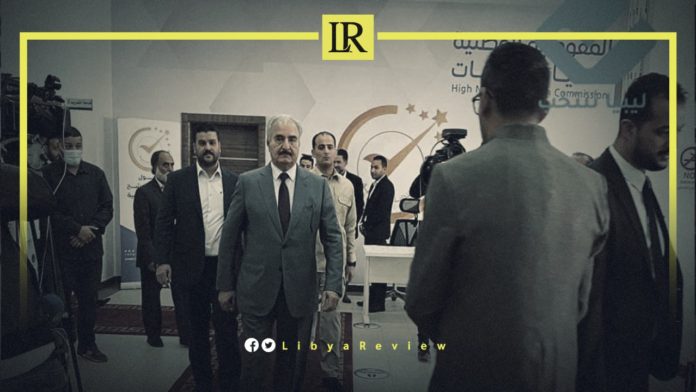 On Tuesday, Field Marshal Khalifa Haftar announced he will run for the 24 December Presidential elections in Libya, describing them as the only way out of the country's crisis.
Khalifa Haftar said in a televised speech that "the country stands at a crossroads of two paths. The first is the path of freedom, peace, and progress, whilst the second path is conflict and corruption. You are the ones who can determine the path you want."
He hailed the constructive initiatives presented by a number of countries, that "have helped push towards a democratic transition and insisted on holding Presidential and Parliamentary elections on time," he noted.
"After years of suffering the doors of hope have finally been opened for you to restore legitimacy, rebuild your state, and choose your leaders," Haftar stated. He also added that he aims to "lead the Libyans towards glory, progress, and prosperity."
Haftar is the Commander of the eastern-based Libyan National Army (LNA). In September, he paved the way for his presidential bid by saying he would step down from his military role for three months – as required by the election laws.
Head of the High Council of State (HCS), Khaled Al-Mishri said earlier this month that "Haftar will never rule, even if it costs hundreds of thousands of bodies."
"If Haftar becomes President, the western region will pick up their weapons and fights Haftar," Al-Mishri said in an interview with Al-Jazeera Mubasher. He warned that the military conflict between east and west will return if Haftar is elected president, and the country will be divided again.
On Sunday, son of long-time leader Muammar Gaddafi, Saif Al-Islam submitted his candidacy papers to the High National Election Commission (HNEC) in order to run for the upcoming Presidential elections.
Meanwhile, the Prime Minister of Libya's Government of National Unity (GNU), Abdel-Hamid Dbaiba announced his rejection of holding the upcoming elections with the current laws, which he described as "flawed."
Regarding his candidacy for the Presidential elections, Dbaiba said that he would run if the people requested. However, the political agreement stipulates that members of the interim government, including the premier, wouldn't run in the December elections.