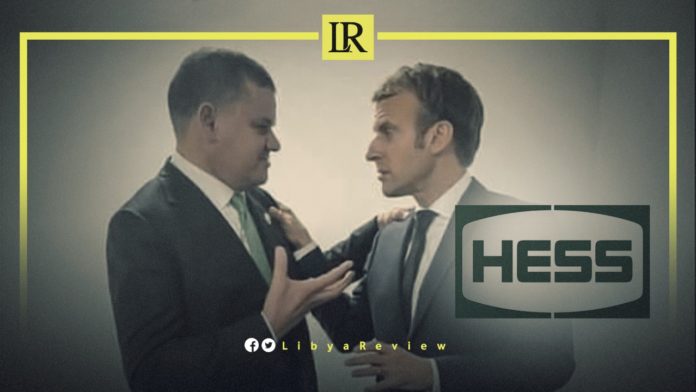 The Libyan Prime Minister of the Government of National Unity (GNU), Abdelhamid Al-Dbaiba, allegedly offered the French-based Total Energies Co. to purchase the United States (US) firm Hess a 8.16% stake in Libya's Waha Oil Company.
In a leaked letter to the French Company, Al-Dbaiba proposed a joint acquisition of 8.16 % of Hess share in the Waha concession by Total Energies alongside US-firm ConocoPhillips.
He urged the French company's Official to move promptly towards the execution of the transaction agreement to finalize the approval process.
This letter, dated November 9th, came just 3 days before the Paris conference, which was held on November 12th. Sources considered an attempt to change France's support for the elections for a personal interest.
Well-informed sources said that the Head of the Libya's National Oil Corporation (NOC), Mustafa Sanalla, who previously sold Marathon Oil's minority stake in the Waha concessions for the French oil giant Total in 2019, is aware of the deal to sell Hess' stake to the same company.
The leaked letter did not mention the total value of the deal, but Al-Dbaiba requested $45 million. He said that the government, represented by the Ministry of Oil and Gas, would dedicate the proposed contribution to the infrastructure projects in relation to youth and sports.
It is not yet known whether Total has approved the deal it has been seeking since last April, but the French oil giant fears a legal controversy on this issue.
Notably, Total Energies Co. offered the deal last April but it hadn't receives any response from the Libyan state.
Libya has Africa's largest proven oil reserves and relies on crude for most of its revenue, but it has been convulsed by violence since the 2011 overthrow of long-time leader Moammar Gaddafi. The conflict has caused repeated outages in oil supply.
The French giant, which has a long history of operating in Libya, is attempting to expand its influence in Libya's upstream sector by boosting its share in the Waha oil concession.
Total Energies Co. has stakes in Waha, Sharara, Mabruk, and Al-Jurf in Libya. This is based on a tried-and-true methodology for the energy company, which has proven to be successful in seeking higher profits in risky places.
Libya's oil sector is yearning for greater interest from international oil companies, as its recent production rebound has been hampered by a shortage of finances.