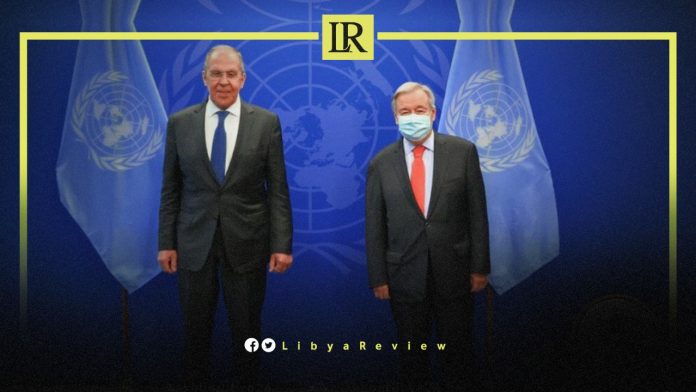 United Nations Secretary-General, Antonio Guterres held a video conference with Russia Foreign Minister, Sergey Lavrov. They discussed the situation in Libya, and the latest political developments in the country.
The Russian Foreign Ministry said in a statement on Tuesday, that Lavrov briefed Guterres in detail on Russia's ongoing negotiations with NATO member states on specific security guarantees. The statement added that a comprehensive exchange of views took place on a number of current international issues, such as the situation in Libya and Syria.
On Monday, the Official Spokeswoman of the Russia Ministry of Foreign Affairs, Maria Zakharova stated that Moscow hopes that Libya's new government, led by Fathi Bashagha will be able to unify society.
In a statement regards to the approval of Bashagha as Libya's new PM, Zakharova added, "We think that this choice by Libyan lawmakers should be respected. The important thing is for the existing contradictions between Libyans not to lead to a serious conflict, but to be resolved via talks and reaching compromises."
She added that Russia also hopes that this will "help Libya to successfully cope with difficult tasks during the transitional period, including preparations to hold nationwide elections."
Meanwhile, Spokesman for the United Nations Secretary-General, Stephane Dujarric discussed the recent events surrounding the assignment of a new Prime Minister in Libya.
"We have a Prime Minister whom UN Advisor Stephanie Williams met, Abdel-Hamid Dbaiba, and a Prime Minister-designate, Fathi Bashagha who has a deadline to name a government, and it's up to the Libyan people," Dujarric said in a press conference on Monday. He stressed that there should be no violence, and there should be no use of force.
"Libyan leaders must move forward in a peaceful, consensual, transparent, and inclusive manner to maintain stability in Tripoli," he added. Dujarric urged Libyan leaders to prioritize the interests of the 2.8 million citizens who registered for the elections.
Last week, Speaker of the Libyan Parliament, Ageela Saleh announced that they unanimously appointed, Fathi Bashagha as the new Prime Minister. He is set to replace the current Prime Minister of the Government of National Unity (GNU), Abdel-Hamid Dbaiba.
Dbaiba noted in a speech that he would not hand over power until after elections. "Only elections will end the transitional stages," he claimed.
Observers fear that Libya will return to having two opposing governments, given Dbaiba's refusal to cede power to a rival government.