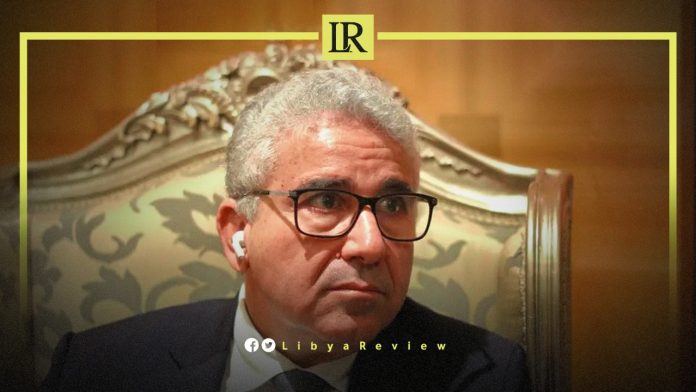 On Tuesday, the newly appointed Libyan Prime Minister, Fathi Bashagha expressed his commitment to holding elections on time, as per the roadmap approved by the Libyan Parliament.
In a televised speech, Bashagha said that his government will work on the principle of participation and cooperation with both the Parliament and the High Council of State (HCS). As well as "the Presidential Council for the best interest of Libya and the Libyan people, and to ensure good relations with neighbouring and friendly countries."
He also added that his newly formed government will assume power in Tripoli peacefully, adding that he has started all legal and administrative measures. He claimed to have made contact and "arrangements with security and military apparatuses for a peaceful handover of power without any issues."
Bashagha thanked the UN Support Mission in Libya (UNSMIL) for its support, and hoped for cooperation in completing constitutional work, holding elections, achieving national reconciliation, and unifying state institutions.
The appointment of Bashagha last month, a former Interior Minister from the western city of Misrata, is part of a new Parliamentary roadmap. It also involves several constitutional amendments, and for elections to be held in 14 months.
Earlier today, the Parliament gave confidence to the new government, as 92 of the 101 lawmakers in attendance approved the decision, in a live broadcast from the city of Tobruk.
The new government includes three deputy prime ministers, 29 ministers, and six ministers of state. Two women are in the Cabinet, overseeing the Ministry of Culture and Arts, and holding the position of State Minister for Women's Affairs.
Meanwhile, the Libyan Government of National Unity (GNU) stated that it would remain in power, and rejected the "mess and fabrication" made by the Parliament. It vowed to lead the country to elections in June 2022.
Libya has been mired in a political crisis since the fall of long-time leader Muammar Gaddafi's regime in 2011. Observers fear that Libya will return to having two opposing governments, threatening the nation's vital oil sector.