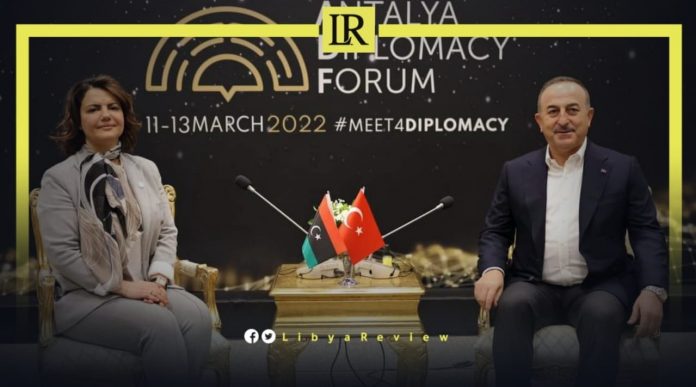 On Saturday, the Libyan caretaker Minister of Foreign Affairs and International Cooperation, Najla Al-Mangoush, held a meeting with her Turkish counterpart, Mevlut Çavuşoğlu, in Antalya on the sidelines of her participation in the Antalya Diplomacy Forum.
The Forum, which is being held under the auspices of the Turkish President, Recep Tayyip Erdoğan, will host a number of world leaders.
During the meeting, the Libyan and Turkish Ministers tackled bilateral relations between the two countries and ways to enhance them.
Al-Mangoush also briefed Çavuşoğlu on the latest political developments in Libya, and other regional files of common interest, according to the Libyan Foreign Ministry's statement on its Facebook page.
Çavuşoğlu affirmed Turkey's support for the outgoing Government of National Unity (GNU), headed by Abdelhamid Al-Dbaiba, and the democratic path in Libya to achieve stability in North African country.
Notably, Al-Dbaiba met with the Turkish President, the Qatari Foreign Minister, Mohammed Abdulrahman, and the Chairman of the Elders of the Organization of Turkish States, Bin Ali Yildirim, on the sidelines of his participation in the Forum.
Libya faces a political crisis after the Parliament swore in a new government, last week. The incumbent administration has refused to cede power, amid the fallout from a failed attempt to hold national elections in December.
Each rival government has support among the armed factions based in Tripoli. The Parliament-backed Prime Minister, Fathi Bashagha, said he intends to take over in the capital this week, raising fears of clashes.
Concern is growing that Libya might be plunged back into chaos after an United Nations (UN)-backed peace process stumbled in late December when elections for a new leadership were postponed.
Al-Dbaiba, who was installed a year ago to head an interim unity government, says he will only leave office after an election.
The Parliament, which mostly took the eastern side during the civil war, declared Al-Dbaiba's government had expired and announced a new transitional period under Bashagha's new government and no elections until next year.