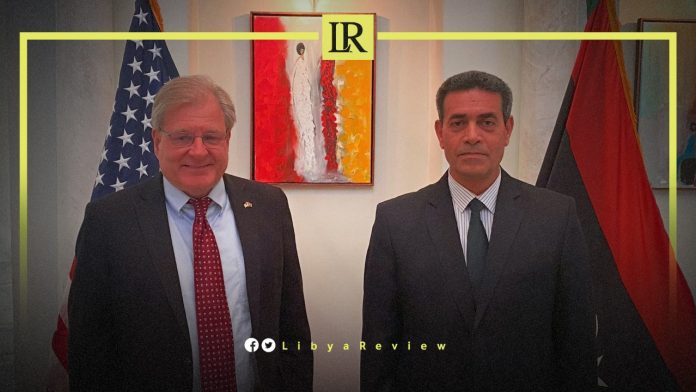 On Saturday, the Ambassador of the United States (US) to Libya, Richard Norland, held a meeting with the Head of the Libyan High National Elections Commission (HNEC), Emad Al Sayeh, in Tripoli.
The US Ambassador said, "it was encouraging to hear Al-Sayeh confirm the HNEC's readiness to conduct elections once a political agreement has been reached on the way ahead," according to a tweet published by the Embassy on its Twitter account.
He added that the joint committee, including members of the Libyan House of Representatives (HoR) and the High Council of State (HCS), will adopt a constitutional basis, representing the next practical step toward this goal. "We urge all sides to support this process," he noted.
Earlier today, Norland held talks with Heads of several HCS committees to discuss efforts to establish a constitutional basis and restore momentum to presidential and parliamentary elections in Libya.
During the meeting, they discussed the importance of the government's ability to support the elections, as well as finding a solution to the current political crisis. We are encouraged that the HCS appointed representatives to a constitutional dialogue committee.
Last week, the United Nations (UN) Secretary-General Special Adviser, Stephanie Williams, called on the Libyan HoR to "respond quickly and positively" to her proposal to form a joint committee with the HCS (an advisory body) in order to set a constitutional basis that would lead to elections as soon as possible.
Earlier, she had announced, in a series of tweets, an initiative that provides for the formation of a joint committee consisting of six representatives from both the HoR and the HCS. It would have met on March 15th for a period of two weeks, under the auspices of the UN, to set a constitutional basis that leads the country to elections.
The joint committee was scheduled to meet on Tuesday to start its work but the HoR has not yet named its representatives. Nor has it officially announced its position on the initiative itself, except for a statement put out a week ago by 93 members who rejected the Williams plan.
Analysts say the timeframe attached to the initiative was not realistic given the deep differences still separating the HoR and the HCS.
Recently, the Chairman of Libya's High National Elections Commission (HNEC), Emad El-Sayeh received the German Ambassador to Libya, Michael Unmacht in Tripoli.