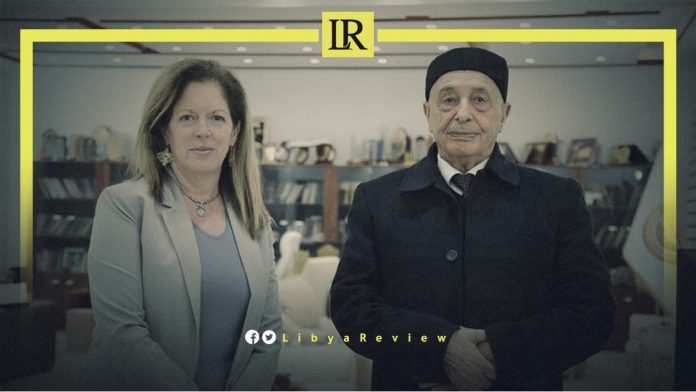 On Monday, the Speaker of the Libyan Parliament, Ageela Saleh confirmed his rejection of the UN's "interference in the decisions of the Parliament."
During a meeting with the UN Secretary-General's Adviser (SASG), Stephanie Williams, Saleh confirmed the legality of the decisions taken by the Parliament.
Saleh explained that the procedures for the 12th constitutional amendment, the roadmap, and the formation of the new government were all taken legally.
These procedures took place after an agreement was reached with the High Council of State (HCS). He reviewed the validity of votes by MP's to grant confidence to the new government.
Notably, Saleh and the Libyan Parliament announced their rejection of the proposal put forward by Williams. This is regarding the formation of a joint committee between the HCS, and the Parliament to set a constitutional basis for holding elections.
Over 90 MP's said in a joint statement, that Williams' initiative "is an unjustified parallel path, because a Libyan-Libyan agreement was previously reached, between the Parliament and the HCS."
On Friday, Williams proposed the formation of the committee, consisting of six members from either legislature. The HCS welcomed Williams's initiative, and formed a committee. It adopted a mechanism for selecting the committee members, provided that they will be elected in the next session.
Recently, the Speaker of the Libyan House of Representatives (HoR), Ageela Saleh, called on the Libyan people to exercise their constitutional right to freely choose their coming President who will represent them, and lead the country towards safety and stability.