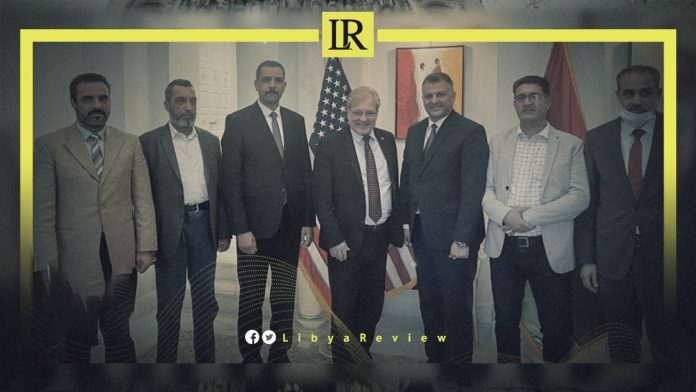 The United States (US) Ambassador and Special Envoy to Libya, Richard Norland, held a meeting with the Heads of the committees of the Libyan High Council of State (HCS). They discussed efforts to establish a constitutional basis and restore momentum for the presidential and parliamentary elections in Libya.
In a tweet, the US Embassy stated that Ambassador Norland and members of the HCS spoke about the importance of the government's ability to support the elections.
The US Ambassador also discussed finding a solution to the current political crisis. He expressed his satisfaction at the council's appointment of its representatives to the constitutional dialogue committee.
On Thursday, Norland proposed a mechanism to manage the flow of Libyan oil revenues to help the current political crisis.
In an interview with Reuters, the US Ambassador said that the rival factions in the country have argued over who gets to control oil production, sales, and revenues for years. This has fuelled the political chaos and violence, that has ravaged Libya since 2011 NATO-backed uprising.
The proposal aims to stop the crisis spilling over into economic warfare that would deprive citizens of salaries, subsidised goods, state investments, and hit global energy markets, the Ambassador added.
Any threat to Libya's output, which has topped 1.3 million barrels per day in recent months, would hit markets already challenged by the Ukraine crisis.
"The issue is to reach an agreement on the best way to make sure that Libya's oil wealth is employed where it's needed to help people, and that it's monitored so that people can be confident it's not being diverted for political uses or for inappropriate uses," the US Ambassador said in an interview.
The current crisis erupted after Libya failed to hold its first Presidential elections on the 24th of December, under a United Nations (UN)-led reconciliation effort. The peace plan also involved installing an interim unity government last year. It was aimed at resolving the conflict between the country's main factions that split Libya in 2014, between rival governments in East and West.
The Libyan Parliament named a new Prime Minister, former Interior Minister, Fathi Bashagha, to lead a new interim government in February. Members of Parliament (MPs) argued that the incumbent Prime Minister, Abdelhamid Al-Dbaiba's mandate expired when the elections failed to take place. Al-Dbaiba warned that the appointment of a new interim government could lead to war and chaos in the country. He renewed his pledge to only hand power over to an elected government.
The US Ambassador said both men had made commitments to avoid violence or escalation, but the situation remained still dangerous. "If this situation drags on there is a risk of violence. And if that occurs then each side will bear some degree of responsibility and I think that's not something either side wants," he said.