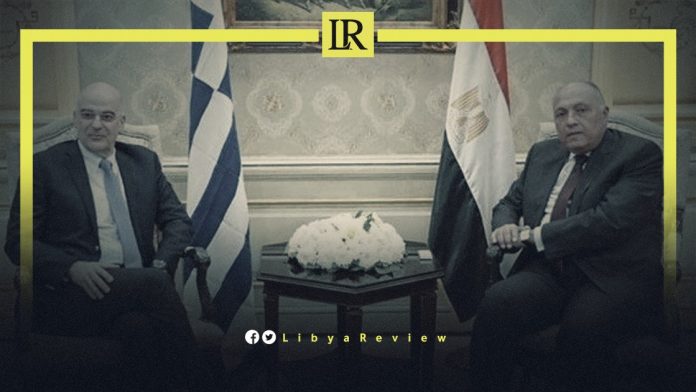 On Tuesday, Egypt Minister of Foreign Affairs, Sameh Shoukry held a meeting with his Greek counterpart, Nikos Dendias. They discussed bilateral relations, and a number of regional files, especially with regard to the situation in Libya.
During the talks, Egypt and Greece shared a common vision, with both men "reaffirming their desire for stability in an area of strategic importance to Cairo."
"We discussed in detail Libya, the situation that has arisen with the presence of two Prime Ministers, Abdel-Hamid Dbaiba and Fathi Bashagha, and how we can coordinate our actions so that Libya is finally led to elections," Dendias said after the meeting.
In turn, the Egyptian FM added that Cairo's stance regarding support for the current Libyan political course is consistent. As well as adding that Egypt supports Libya, and non-intervention in its affairs.
In a tweet, Dendias described the meeting as "cordial, focused on deepening strategic relations and cooperation on the basis of a shared commitment to international law and the law of the sea, as well as the situation in Ukraine."
Another issue high on the agenda was the risk of a food crisis as a result of the Russian invasion of Ukraine, which could have a huge impact on Egypt as it is heavily dependent on Ukrainian wheat.
Notably, Libya is currently facing a political crisis after Parliament swore in a new Prime Minister, former Interior Minister, Fathi Bashagha, to lead a new interim government in February. MP's argued that the incumbent PM, Abdel-Hamid Dbaiba's mandate expired when the elections failed to take place.
Dbaiba has refused to cede power, and warned that the appointment of a new interim government could lead to war and chaos in the country. He renewed his pledge to only hand power over to an elected government.
Libya was meant to hold elections in December, as part of a UN-guided peace process aiming to draw a line under a complex conflict that dates back to the 2011 revolt. But as political factions wrangled over the legal basis and the eligibility of controversial candidates, the polls were indefinitely postponed.