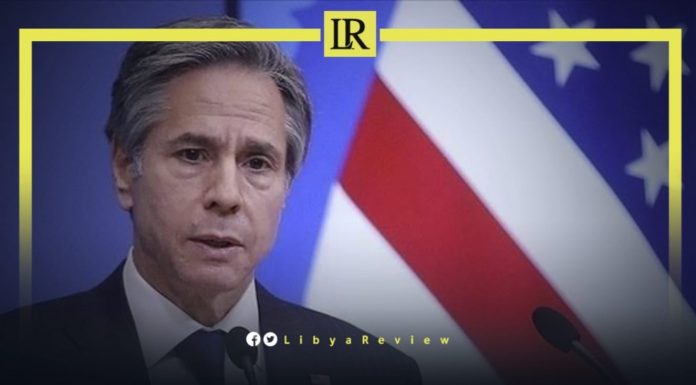 On Friday, the United States (US) Secretary of State, Anthony Blinken, said the US will implement a 10-year strategy in Libya and other countries to prevent conflicts and promote stability.
Blinken added that the US will work with governments, businesses, and civil society partners to build resilience in Libya, Haiti, Mozambique, Papua New Guinea, and coastal West Africa.
"Together with our partners, we will implement the 10-year strategy to prevent conflict and promote stability," Blinken tweeted.
The US Ambassador to Libya said the ten-year strategy to promote stability in Libya shows a sustained US commitment that goes beyond the short term.
"We are working toward Libyan reconciliation and re-unification, under an elected government accountable to Libyans," Norland said according to the US Embassy in Libya.
Libyan Prime Minister-designate, Fathi Bashagha, welcomed Blinken's announcement. He said his country will be a partner for peace, prosperity and self determination to friends and neighbours.
"The people of Libya welcome the opportunity to work with US State Department and Secretary Blinken to promote stability her and throughout our region," Bashagha tweeted.
Last month, Bashagha warned of the collapse of the ceasefire agreement if the outgoing Government of National Unity (GNU) continues to refuse to hand over power to his government.
"The outgoing government's continued usurpation of power and the threat of violence threatens to unravel the ceasefire agreement, and undermine national and international efforts to hold elections," Bashagha said in a statement.
On the 10th of February, the Speaker of the Libyan Parliament, Ageela Saleh, announced that they unanimously appointed Bashagha as the new Prime Minister.
However, Al-Dbaiba warned that the appointment of a new interim government could lead to war and chaos in the country. He renewed his pledge to only hand power over to an elected government.
Bashagha has accused Al-Dbaiba's outgoing government of supporting terrorism and armed militias. He said some armed militias were standing next to the outgoing government, but today they retreated.
Bashagha said that his government has the ability to enter the capital Tripoli, "but he prefers to enter it in a peacefully and without bloodshed."
"The outgoing government is trying to drag us into a conflict that will lead to casualties," he said.
He concluded that his administration has formed groups that contact armed militias and others contact politicians in order to resolve the crisis.