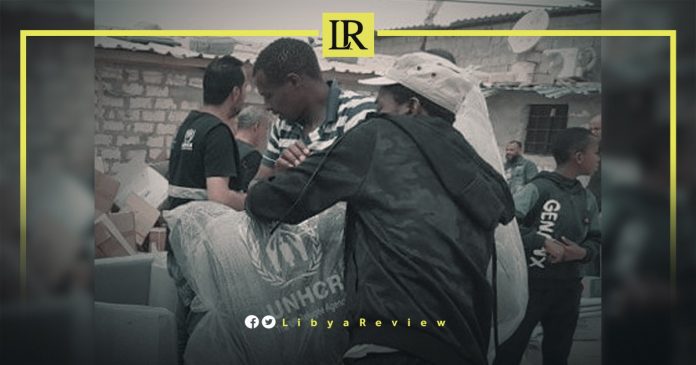 The United Nations High Commissioner for Refugees (UNHCR), reported that it has distributed winter items to 200 displaced Tawerghan families living in settlements in Ajdabia.
Around 950 IDP's received the items through UNHCR, and its partner LibAid (Libyan Humanitarian Relief Agency).
"With this final delivery, UNHCR and LibAid have reached out to 1,146 displaced Libyan families in eastern Libya," a statement read.
Mattresses, blankets, winter apparel, footwear, kitchen sets, solar lamps, school bags, and electric heaters are among the items, according to the statement.
During the 2011 uprising, residents of Tawergha allied with the forces of former Libyan leader, Muammar Gaddafi against rebels in the nearby city of Misrata. They were left displaced after Gaddafi's regime was toppled.
On Monday, UNHCR's Filippo Grandi criticized the "double standards policy" adopted by a number of European countries regarding the refugee crisis.
These remarks came after 90 migrants drowned when their overcrowded boat capsized in the Mediterranean. This is the latest tragedy involving migrants departing from the North African country, to seek a better life in Europe.
"Europe has proven its ability to host 4 million refugees from Ukraine, generously and effectively. It must now urgently consider how to apply this to other refugees and migrants knocking, in distress, at its doors," the UNHCR official tweeted.
Late on Saturday, Doctors Without Borders (MSF) said the migrants were on a vessel that left Libya last week. It was unclear exactly when the boat ran into trouble, said Juan Matias Gil, the group's Head of Mission.
MSF also announced that an oil tanker rescued four migrants early Saturday, in international waters. The survivors reported that they were on the boat along with about 100 other migrants.
It added that the tanker did not respond to its calls not to return the migrants to Libya, where "they will almost certainly face detention, abuse, and ill-treatment."
Libya has emerged as the dominant transit point for migrants fleeing war and poverty in Africa and the Middle East.
Human traffickers in recent years have benefited from the chaos in Libya, smuggling in migrants across the oil-rich country's lengthy borders with six nations. The migrants are then typically packed into ill-equipped rubber boats and set off on risky sea voyages.
Around 300 migrants died or were presumed dead along the central Mediterranean route between 1 January and 28 March, according to the UN's International Organization for Migration (IOM). About 3,100 were intercepted and taken back to Libya.
Once back in Libya, the migrants are typically taken to government-run detention centers rife with abuse and ill-treatment.
In 2021, at least 32,425 migrants were intercepted and returned to Libya. At least 1,553 are presumed to have drowned last year, according to IOM.